Shirley Ann (Steinberg) Steenhard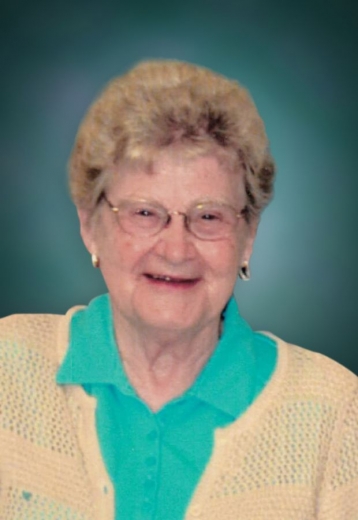 Shirley Ann (Steinberg) Steenhard, age 89, died peacefully on November 28, 2020 at the Summit House Assisted Living in Britt. A private family service was held at 1 p.m. on Tuesday, December 1, at Oakcrest Funeral Services, Winter Chapel. A graveside service followed the family service at Graceland Cemetery in Buffalo Center. The graveside service was live-streamed on Oakcrest Funeral Services' Facebook page. A public celebration of life will be held at a later date.
Shirley was born March 28, 1931, in Buffalo Center, the daughter of George and Hazel (Steele) Steinberg. She attended Buffalo Center Schools and graduated in 1948. Shirley was baptized and confirmed at the Methodist Church in Buffalo Center, and her faith was important to her.
On January 15, 1949, she was united in marriage to Alfred Steenhard at the Methodist Church in Buffalo Center. Shirley and Al lived in Lakota, Thompson, Rapid City, SD, and Buffalo Center. She held various jobs and left friends everywhere. Together, they were blessed with four children: Douglas, Harlan, Donna, and Roy Allen.
Shirley loved her role as a wife, mother, grandma, and great-grandma. She was an avid baker and loved sharing her baked goods. She also enjoyed socializing, coffee parties, embroidery, blue grass festivals, and traveling.
Left to cherish her memories are her daughter, Donna (Dave) Stine of Davisburg, MI; daughters-in-law: Deborah Steenhard of Kenyon, MN, and Marcia Steenhard of Rochester, MN; eight grandchildren: Dan (Christy) Stine, Laura (Eric) Barrett, Mike (Nicole) Stine, Melissa (Ben) Bauer, Katie (Tobin) Hempel, Cameron Steenhard, Lucas Steenhard, and James (Sarah) Stine; nine great-grandchildren: Ethan and Sadie Stine, Lilly and Mika Stine, Jack and Owen Bauer, Meara and Kellan Hempel, and Vivian Stine; and many nieces and nephews.
Shirley was preceded in death by her husband of 61 years; her parents; infant son, Roy Allen; sons: Douglas Steenhard and Harlan Steenhard; brothers: Robert (Frances) Steinberg and Donald (Olga) Steinberg; brother-in-law, Norman Bruns; and sister-in-law, Gelaine Cody.
The family wishes to express their gratitude to the Summit House Assisted Living in Britt and Hospice for the wonderful care they've given to Shirley. Their kindness and compassion meant a great deal.
In lieu of flowers, memorials may be directed to the Summit House Assisted Living in Britt, Mercy One North Iowa Hospice, or donor's choice, in Shirley's name.
Oakcrest Funeral Services in Buffalo Center is assisting the family. Online condolences may be left at www.oakcrestfuneralservices.com
Category:
The Buffalo Center Tribune
Mid-America Publishing
This newspaper is part of the Mid-America Publishing Family. Please visit www.midampublishing.com for more information.