Sherman Larry Thomsen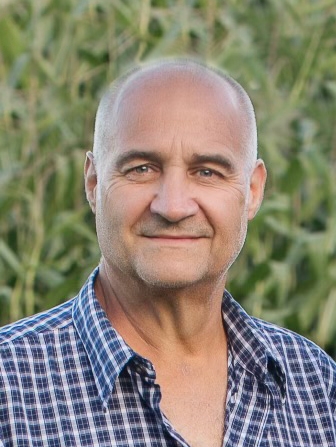 Sherman Larry Thomsen, age 60, of Lakota, died Wednesday, December 30, 2020, at his home. A funeral service was held on Sunday, January 3, at St. Paul Lutheran Church in Lakota. Interment was in St. Paul Lutheran Cemetery in Lakota. The funeral and graveside can be viewed on Funeral Services' Facebook page https://www.facebook.com/oakcrestfuneralservices/. The family is planning a memorial service for Sherman later this year.
Sherman Larry Thomsen was born August 1, 1960, in Buffalo Center, the son of Larry and Lorraine (Gallagher) Thomsen. He grew up on the family farm outside of Lakota and graduated from Lakota High School in May of 1979. 
On December 18, 1982, he married his high school sweetheart, Laura Wentworth. They celebrated their 38th wedding anniversary this year.   
Sherman's kids meant the world to him. He taught them the importance of the golden rule, hard work, and a quick joke. You better believe he spoiled his grandkids. They knew when Papa Sherman came, he always brought treats. Christmas was his favorite time of year, and he started the countdown in February: "Only 10 more months until Christmas!" Sherman loved when his kids and grandkids made their wish lists with pictures because it made shopping easy. He could always guess his gifts before unwrapping, so half the fun was trying to trick him with the packaging. 
Sherman was always a farmer. He loved the smell of dirt each spring and the harvest each fall. He took pride in straight rows, weed-free fields, and never over running the hopper on the combine. Sherman enjoyed the years farming with his mother, Rainy, and loved being able to work in the field with his wife and son. 
He loved to plant a garden each summer, even though every year he swore he wasn't going to do it anymore. Tomatoes, green peppers, and onions were staples. For a while, he grew eggplants–even though he always gave them away. And each year he cursed the racoons for eating his sweet corn. 
Sherman was known for his cooking. His specialties included barbecued chicken, stuffed Cornish hens, dried beef gravy with mashed potatoes, chili, and oyster stew. There was another dish called Goop. It wasn't much to look at, and the ingredients changed each time it was made, but Sherman always made sure it tasted good. He loved good food. The end of harvest, or a special birthday, was always celebrated with prime rib and margaritas at the Branding Iron.
He is survived by his wife Laura; three children: Megan (Nich) Holland, Emily (Joe) Angstman, and Gabriel Thomsen; five grandchildren: Jackson, Tessa, and Beau Holland, Jay and Evan Angstman. sisters: Sheryl (Al) Hinton and Sheila (Mike) Koppen; and brother, Shawn Thomsen; In-laws, Delbert and Joyce Wentworth; sister-in-law, Deb (Dan) Goss;, as well as nephews and nieces.
Preceding him in death were his parents, Larry and Lorraine; grandparents: Nick and Edna Thomsen, and George and Anna Gallagher.
Sherman will be remembered for his sense of humor, work ethic, and firm "put it like you mean it" handshake. And for wearing his shirts unbuttoned to mid-chest. His shop is always open for a beer and a chat.
In lieu of flowers and plants, memorials may be directed to United Hands Hospice–Blue Earth in Sherman's name, and the family encourages you to donate blood.
Oakcrest Funeral Services in Buffalo Center is assisting the family. Online condolences may be left at www.oakcrestfuneralservices.com
Category:
The Buffalo Center Tribune
Mid-America Publishing
This newspaper is part of the Mid-America Publishing Family. Please visit www.midampublishing.com for more information.