Sharon Swenson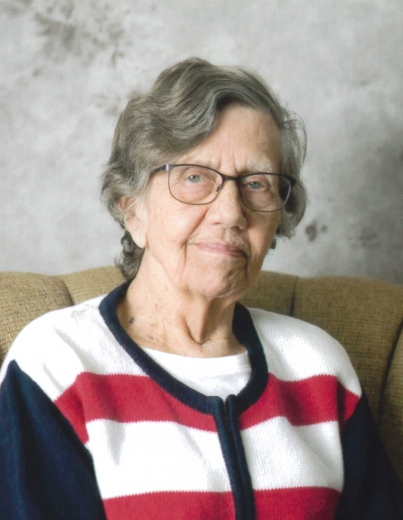 Sharon D. Swenson, age 82, died on Wednesday, October 20, 2021 at the Timely Mission Nursing Home in Buffalo Center. Funeral Services were held at 2 p.m. on Saturday, October 23, 2021 at Bethany Lutheran Church in Thompson, with Pastor Rod Hopp officiating. Visitation was held on Friday, October 22 from 6 to 8 p.m. at Bethany Lutheran Church in Thompson and continued one hour prior to the service on Saturday. Burial was at Rose Hill Cemetery in Thompson.
Sharon Diane (Olson) Swenson was born on November 15, 1938 in rural Story County, the daughter of Udell and Margaret (Christopher) Olson. She was baptized in the Lutheran faith, and graduated from Stanhope High School in Stanhope. She went on to attend Waldorf College in Forest City, where she met a handsome young man named Alan Swenson. The two were united in marriage on June 28, 1958 in Stanhope.
The couple made their home in rural Thompson where they were blessed with two daughters, Kimberly and Tammy. Sharon was a homemaker during her daughters' early years and then began working outside the home when they were a bit older. She was an administrative assistant for the Soil Conservation Service in Thompson.
Sharon enjoyed the simple things in life. Together, she and her husband, Alan, enjoyed yearly trips to places such as: Wyoming, Colorado, and the Black Hills in South Dakota. They were fortunate to take their children and families to Mt. Rushmore in celebration of their 40th wedding anniversary. Another important part of Sharon's life were holiday gatherings; Christmas Eve always being a favorite where she would showcase her Norwegian traditions. Sharon would show off her baking and cooking skills by filling the table with kumla, toffee, spritz cookies, mashed potato balls, and her famous oyster stew. For Sharon, it wasn't the trips to the Black Hills, the oyster stew, or the wonderful goodies she baked that made her happy – it was the people that surrounded her during those holiday gatherings or family trips that made those moments special.
Those left to carry on her legacy are her two daughters, Kimberly (Harlen) McGuire of Stanley, NC and Tammy (Tim) Rieffer of Thompson; grandchildren, Christopher McGuire of Asheville, NC, Curtis McGurie of Stanley, NC, Tyler Koeneke of Garner, and Dallas (Marissa) Koeneke of Cabot, AR; and great-grandchildren, Annabelle, Ashley, Emmett, Emma, Brody, Olivia, Jude, Eli and Micah. She is also survived by her brother, Mark (Bonnie) Elgin II, as well as many extended relatives and friends.
She is preceded in death by both parents, Udell and Margaret Olson; husband, Alan Swenson in 2020; and a brother, Wayne Olson.
Arrangements were taken care of by Schott Funeral Home in Lake Mills. Online condolences may be left for the family at www.schottfuneralhomes.com
Category:
The Buffalo Center Tribune
The Buffalo Center Tribune
PO Box 367
Buffalo Center, IA 50424
Phone: 641-562-2606
Fax: 1-800-340-0805
Email: bctrib@wctatel.net
Mid-America Publishing
This newspaper is part of the Mid-America Publishing Family. Please visit www.midampublishing.com for more information.