Ruth Akkermann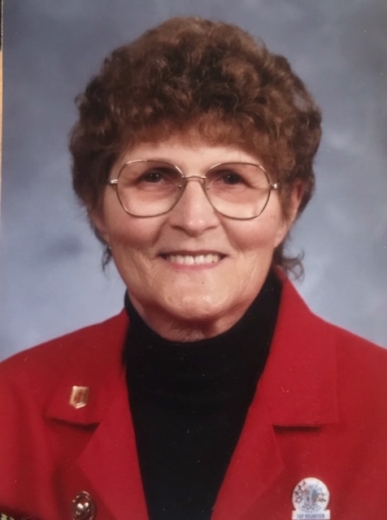 Ruth Akkermann, age 82, passed away on September 23, 2021 at 3:44 p.m. at the Timely Mission Nursing Home in Buffalo Center. A private family gathering will be held at a later date. Burial of her cremains will be at Oakland Cemetery in Forest City.
Ruth Elaine Tiedens was born on May 17, 1939 to Boyd and Stena Tiedens. Her father died when she was just eighteen months old, and her mother later married George Jutting. Ruth attended school as a child in Rake and graduated from Buffalo Center High School in May of 1957. As a young mother, she asked Jesus Christ to be her Savior.
On March 14, 1958 she married Wilhelm Akkermann in Buffalo Center. To this union was born Juern (Helen) Akkermann, Forest City, Joe Akkermann, Buffalo Center, Susan (Dennis) Kearney, Lakota, Theda (Scott) Wistrick, Mason City, and Linda (Donald) Cooper, Joice.
Wilhelm's work in construction took them from Iowa to Connecticut to Germany to New York to Illinois and back to Iowa. They farmed near Buffalo Center and managed motels in Forest City, Owatonna, and Buffalo Center. Ruth loved to garden, sew, and bake. She was an excellent cook. There were always homemade goodies to enjoy for the kids after school, on birthdays, holidays, and the traditional 3:00 p.m. teatime. She was very involved in Christian Women's Club and the church. After the children were grown, she enjoyed volunteering for the Foster Grandparent Program and caring for the elderly, following in her mother's footsteps.
She will be greatly missed by her five children and their spouses, 20 grandchildren and 34 great grandchildren, of which there are four sets of twins. Ruth is also survived by her brothers; David (Mary) Tiedens, Roger (Beverly) Jutting, Howard Jutting, and Jerry (Janet) Jutting; sisters, Margaret Irons and Stella (Brian) Ainslie; her in-laws, Almuth Baumann, Waltraut Akkermann, Jurgen and Helga Akkermann; and many nieces and nephews.
She was preceded in death by her husband, Wilhelm Akkermann, on December 31, 2015; daughter-in-law, Pam Akkermann; son-in-law, Jerry Hill; grandson, Jeremiah Hill; her parents; Boyd Tiedens, George and Stena Jutting; father and mother-in-law, Albert and Trintje (Hilger) Akkermann; brothers-in-law, Kenny Irons, Vernie Boomgarden, Ade Bauman, and Albert Akkermann; sister-in-law, Birdene Jutting; nieces, Marilyn Irons and Nancy Irons; and nephew, Walter Looden.
Category:
The Buffalo Center Tribune
The Buffalo Center Tribune
PO Box 367
Buffalo Center, IA 50424
Phone: 641-562-2606
Fax: 1-800-340-0805
Email: bctrib@wctatel.net
Mid-America Publishing
This newspaper is part of the Mid-America Publishing Family. Please visit www.midampublishing.com for more information.