Ray "Tom" Schutter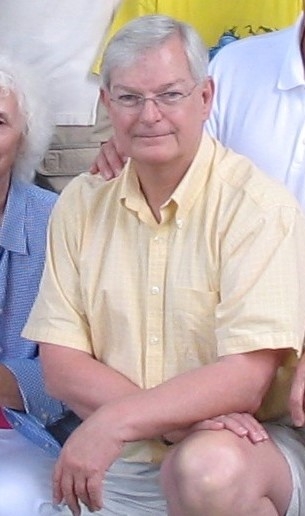 Ray Schutter, 78, of Houston, TX, passed away Sunday, March 28.
Ray Thomas "Tom" Schutter was born December 1, 1942. He was the fifth of seven children born to Arthur and Bertha Schutter of Buffalo Center. He grew up here in Buffalo Center doing all the typical things. He was in Cub and Boy Scouts. He was an Eagle Scout, and in 1957 he went to Valley Forge with 50,000 other Scouts. He graduated from high school in Buffalo Center with the class of 1961. His involvement in scouting through college and his studying chemical engineering at Iowa State University, where he graduated in 1964, honed his desire to explore the world and all that it had to offer. Ray lived a joyful life centered around his community and family, enriched by the many experiences and opportunities life offered him. His strong moral grounding and desire to help others was a natural result of growing up in a farming family with six siblings in Buffalo Center.
His successful oil and gas career took him around the world and to seven homes across the United States... Kentucky, Missouri, California, Kuwait, Colorado, and Texas, including a 55-foot sailboat called "The Last Straw" that his whole family lived on for one year, moored in Newport Beach, CA. No matter where life took Ray, he always found the time to visit and host the families of his brothers and sisters, plus many from around the world.
After 21 years of outdoor-exploring and character-building parenting of two children, who love him dearly, he shifted gears to a life of giving to his community. Ray left the corporate world behind to establish a travel business with his second wife, Cecile, in Houston, TX. They adventured to worldwide exotic places, welcomed their four grandchildren to join in their journeys, and gave back to the world on Rotary-sponsored humanitarian missions. Ray never waited for others to seek out his aid; he actively sought opportunities to enrich the lives of others and share of himself. He was often the one that family and friends sought out to mediate disagreements with his gracious and diplomatic advice and counseling. His sweet smile and plethora of "Opaisms" will live on through those whose lives he has touched. Those of us left behind are better for having known him and worse for having lost him.
Ray passed away Sunday morning, March 28, 2021, after living with the effects of a stroke for his last six and a half years.
He leaves behind to mourn him his wife of 34 years, Cecile Schutter, of Houston, TX; his daughter, Rhonda Wolner of Elizabeth, CO; his son, Tom Schutter of Erie, CO; his grandchildren, Devyn Snowhawk, Quinn Wolner, Kyle Schutter, and Skylar Schutter, all of Colorado; his brother Duane Schutter of Forest City, IA; his sister Joyce Lane of Gilbert, AZ; his sister Nancy Madetzke of Chandler, AZ; his sister Betty Davids of Buffalo Center; one aunt, Darlene Hofbauer of Forest City; 22 nieces and nephews, 29 first cousins; and a large number of friends and neighbors.
He was preceded in death by his parents, Arthur and Bertha Schutter, his brother Kenneth Schutter, and his sister Patsy Schutter Tidmore Gipson Morton.
Category:
The Buffalo Center Tribune
The Buffalo Center Tribune
PO Box 367
Buffalo Center, IA 50424
Phone: 641-562-2606
Fax: 1-800-340-0805
Email: bctrib@wctatel.net
Mid-America Publishing
This newspaper is part of the Mid-America Publishing Family. Please visit www.midampublishing.com for more information.