Paul Koppen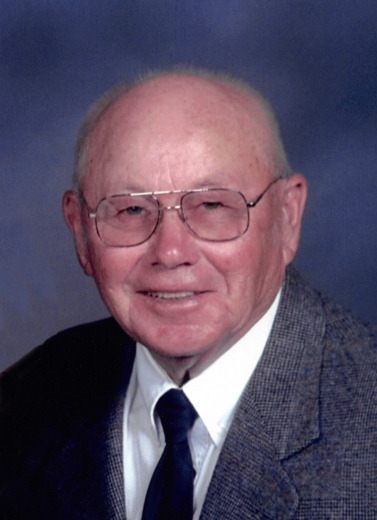 Paul Arnold Koppen, age 94, of Lakota, died Monday, June 14, 2021 at Timely Mission Nursing Home in Buffalo Center. A funeral service was held at 10:30 a.m. on Friday, June 18, 2021, at St. Paul Lutheran Church in Lakota. Burial was in St. Paul Lutheran Cemetery with military honors conducted.
Paul was born on December 22, 1926, the son of P.L. and Gertrude (Becker) Koppen, on a farm east of Lakota. Paul grew up on that farm and attended Lakota consolidated school. He was baptized at Sacred Heart Catholic Church in Ledyard in 1927 and received his First Communion in 1936.
He worked as a farm hand at Rath Packing in Waterloo until he entered the United States Navy in 1945, serving for two years. After returning home, he helped his dad on the farm until 1952, when he moved to a farm near Ledyard. Paul became a member of St. Paul Lutheran Church in Lakota on December 16, 1951. Throughout the years he was a member of the Brotherhood and served on both the church council and cemetery board.
Paul married Elsie Stroebel on June 1, 1952, at St. Paul Lutheran Church in Lakota. They lived on a farm near Ledyard for nine years where they began raising their two sons, Michael and Kelvin. Paul and Elsie moved east of Lakota in 1961 until April of 1969 when they moved to their present farm. He quit raising hogs and cattle in 1973 and started Koppen's Sled Shop, where he sold new and used snowmobiles and also did repairs. His son Kelvin still operates the sled shop doing repairs. Paul was the first president of the Lakota Sno-Eagles Snowmobile Club.
It is common knowledge that Paul and Elsie would always intentionally match the color of their shirts, something everyone would notice them for. Paul loved attending his grandchildren's and great-grandchildren's activities, farming, snowmobiling, fishing, camping, raising poultry, his pet animals, and gardening. He was a lifetime member of VFW Post #4824 of Buffalo Center and the American Legion Post #0562 of Lakota. He was honored to serve his country and was proud to lead many Memorial Day services carrying the U.S. Flag, even Memorial Day of 2020. Paul always had a smile and a friendly like-you-mean-it handshake and a hello or hug. He could recall knowledge of past times very well, and he would always offer up a good story.
Paul is survived by his two sons, Michael (Sheila) and Kelvin (Tamie) of Lakota, and his two grandchildren and their families, Brady (Jessica) with boys Beckham, Griffin, and Deegan of Algona and Kelsie (Ben) Baggenstoss with children Kade, Lukas, and Kenna of Lakota. He is also survived by a sister-in-law, Darlene Blome and her husband Maurice of Ferryville, WI, a brother-in-law, Robert Anderson of Buffalo Center, and many nieces and nephews.
He was preceded in death by his parents; his wife Elsie on January 27, 2013; four brothers, LeRoy, Willis, Irvin, and Maynard Koppen; and three sisters, Florence Keopple, Dorothy Koppen, and Frances in infancy.
Oakcrest Funeral Services of Bancroft were in charge of arrangements. Online condolences may be left for the family at www.oakcrestfuneralservice.com
Category:
The Buffalo Center Tribune
The Buffalo Center Tribune
PO Box 367
Buffalo Center, IA 50424
Phone: 641-562-2606
Fax: 1-800-340-0805
Email: bctrib@wctatel.net
Mid-America Publishing
This newspaper is part of the Mid-America Publishing Family. Please visit www.midampublishing.com for more information.