Paul Alphs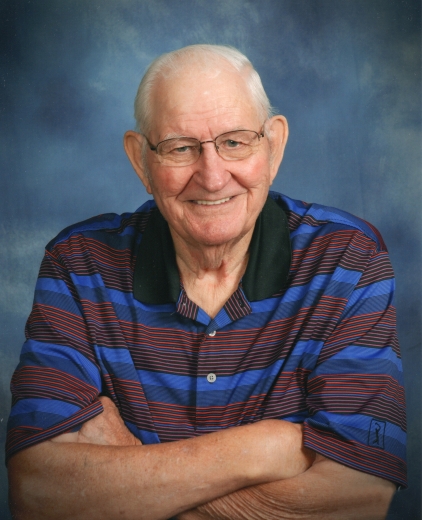 Paul L. Alphs, age 88, of Lake Mills, passed away peacefully on Friday, April 23, 2021 at home. A memorial service will be held at 11 a.m. on Friday May, 7, 2021 at the First Reformed Church in Buffalo Center, with Rev. William Peake officiating. Visitation will take place one hour prior to the service at the church. Interment will take place at Olena Mound Cemetery following the service. Masks are required, and social distancing guidelines will be followed. If you are unable to attend, the service will be livestreamed to the funeral home website. To view, go to www.schottfuneralhomes.com and click Paul's obituary page. From there, click on the "tribute wall" tab to find the link to the video.
Paul Laverne Alphs was born on February 20,1933 in Woden, to Fred and Pearl (Willert) Alphs. He attended school in Alexander and helped his dad on the family farm. As a young man who was very tall, he was nicknamed 'Tiny.' He didn't care for the nickname, but it stuck with him his entire life. Paul enlisted in the Army in 1952, where he received his GED and was a cable splicer in Georgia and New Mexico. He was honorably discharged as a Staff Sergeant in 1955.
Paul married Janet Brooks on June 10, 1954 in Belmond. To this union, two children were born, Cheryll and Mark. When discharged from the Army, Paul and Janet moved to Thompson, where he farmed until 2016. Paul enjoyed farming most of his life, continuing to help his son, Mark, until he was into his eighties. He loved the farm and was proud of his accomplishments. He was a member of the Rake elevator board and served as president for several years. After Janet passed away, Paul continued living on the family farm until the fall of 2020, when he moved into Lake Mills.
Paul and Janet enjoyed many leisure activities over the years including camping, boating, snowmobiling, and card club. He and Janet spent 30 years wintering in their home in McAllen, TX, where they made many memories and friendships. They enjoyed traveling to all 50 states and especially enjoyed their trip to Europe in 1983.
Paul and Janet were members of the United Methodist Church in Thompson for more than 55 years. At the time of his death, Paul was a member of the First Reformed Church in Buffalo Center.
Paul is survived by his children, Cheryll (Roger) Schmidt and Mark (Tami) Alphs; grandchildren, Adam (Steph) Schmidt, Ben (Jen) Schmidt, Luke Schmidt, and Christopher (Lucia) Alphs; great-grandchildren, Lauren (Cristina) Fiesel, Elizabeth Schmidt, Brendan, Alexa, Madi, and Max Schmidt, Kai and Lila Schmidt; great-great-granddaughter, Nora Fiesel; siblings, Ronald (Ruby) Alphs, Sandy (Doug) Steenblock, and Wanda (Gary) Fayard; in-laws, Jean Harty, Richard Brooks, Jean Brooks, and Elle Smith; Aunt, Emma Knapper; and many nieces and nephews.
Preceding Paul in death are his parents, Fred and Pearl Alphs; wife, Janet Alphs in 2009; in-laws Joseph and Irene Brooks; and sisters, Evelyn (Gene) Cooper, Ann (Ted) Buchanan, Winnie (Ray) Williams, Phyllis (Stanley) Bellard, Sharon and Phyllis as infants; and brother-in-law, Ott Smith.
Schott Funeral Homes are assisting the family with arrangements. Online condolences may be left at www.schottfuneralhomes.com
Category:
The Buffalo Center Tribune
The Buffalo Center Tribune
PO Box 367
Buffalo Center, IA 50424
Phone: 641-562-2606
Fax: 1-800-340-0805
Email: bctrib@wctatel.net
Mid-America Publishing
This newspaper is part of the Mid-America Publishing Family. Please visit www.midampublishing.com for more information.