Otto Victor John Boehm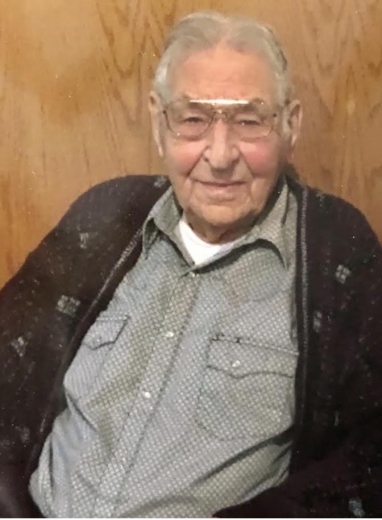 Otto Victor John Boehm, age 98, of Buffalo Center, passed away on Thursday, October 22, 2020, at the Timely Mission Nursing Home in Buffalo Center after residing there for the last 3½ years. Due to circumstances, a private family service will be held.
Otto was born at home on June 11, 1922 in Kossuth County; the son of William and Gertie Janssen Boehm. He attended country school and dropped out of school in the seventh grade to help his family during the depression. Otto worked for a number of farmers for board and room, with the money he earned coming back to his family.
Otto married Dorothy Krull on January 25, 1946 at the Little Brown Church at Nashua. They lived in Buffalo Center while Otto worked at the Farmers Coop Elevator in Buffalo Center. When the chance came for him to rent a farm and live his dream, he didn't turn it down. The opportunity to purchase his own farm came in 1957, and he moved the family to Lakota.
Otto was a jack of all trades and was very creative at fixing or repairing. Otto didn't miss many sales; if there was one in driving distance, he was there. Otto didn't need a buyer number, just his initials: "OB".
In 1987, Otto and Dorothy said it's time to move to town. So, Buffalo Center became home, and his son Duane moved onto the farm.
Otto is survived by: two sons, Daryl (Arvilla) Boehm of Racine, MN, and Duane (Annette) Boehm of Lakota; four grandchildren: Megan (Shawn) Erickson of Stewartville, MN, Tyler Boehm of Stewartville, Cory (Bobbie) Boehm of Racine, and Erin (Jason) Olson of Stewartville; 13 great-grandchildren: Brock, Brody, Braedon and Braxton Erickson, Gavin, McKenzie and Caden Boehm, Corbin, Dawson, Easton and Britton Boehm, and Ashlyn and Brenna Olson; sister, Rosena Nerdig of Buffalo Center; brother, Robert (Gracile) Boehm of Zeeland, MI; step-sister, Carol Jo Schmitz of Greeley, CO; sisters-in-law: Elaine Boehm of Buffalo Center, Joan Boehm of Greenville, SC, and Viola Krull of Waverly; and many nieces and nephews.
He was preceded in death by his parents; beloved wife, Dorothy, of over 74 years on April 25, 2020; brothers: Fred (Jean), Carl (Gretchen), George, John (Juanita) and Dennis; sisters: Pauline (Harold) Eisenhauer, Irene (Edward) Winter; and brother-in-law, Harvey Nerdig.
Otto not only had "Big Hands", he had a "Bigger Heart".
In lieu of flowers, memorials may be mailed to Duane Boehm, 4407 220th Ave., Lakota, IA 50451. Memorials are preferred to First Reformed Church or to Buffalo Center Fire and Ambulance.
Category:
The Buffalo Center Tribune
The Buffalo Center Tribune
PO Box 367
Buffalo Center, IA 50424
Phone: 641-562-2606
Fax: 1-800-340-0805
Email: bctrib@wctatel.net
Mid-America Publishing
This newspaper is part of the Mid-America Publishing Family. Please visit www.midampublishing.com for more information.