Marlyn Duane Hanson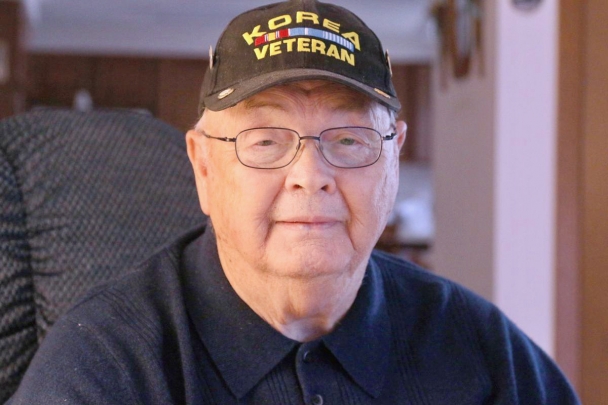 Marlyn Duane Hanson, age 90, of Buffalo Center, passed away Wednesday, October 21, 2020 at the Timely Mission Nursing Home in Buffalo Center. Private Memorial Services were held at 1 p.m. on October 24, 2020 at First Congregational Church in Buffalo Center, with Rev. Jonathan Faulkner officiating. The memorial service was live streamed on the Schott Funeral Homes website and Facebook page for all to view. Burial of cremains was held in the West Rake Cemetery in Rake. Military Honors were performed by the Buffalo Center American Legion Post #21.
Marlyn was born February 16, 1930 on a farm near Frost, MN. He was baptized and confirmed at Zion Lutheran Church in Rake. He attended grade school at Lincoln #1, rural Rake and later attended high school at Rake, graduating as class salutatorian with the class of 1948.
Marlyn helped his dad on the family farm until he was inducted in the US Army in February of 1952. He served in Korea from January 1953 until January of 1954. Marlyn was assigned to the 196th Field Artillery Battalion and served in the "Punch Bowl" area of Korea. He was honorably discharged from the Army in February of 1954. He then moved to Albert Lea, MN, and worked for two manufacturers, Rilco and Queens, for two years.
In September 1955, Marlyn took a Civil Service test and started working out of Sioux City, as a railway mail clerk on trains and highway post offices. He was a substitute for 8 years and worked on most mail train routes in Iowa, Minnesota, North and South Dakota. As the mail trains and buses were being discontinued, Marlyn was transferred to a rural route at Walters, MN, and later added rural route #3 at Wells, MN. He retired in 1990 after 36 years working for the Post Office and very proud of his services, especially to his rural families.
Marlyn was a councilman and a volunteer fireman at Walters. He was also a lifetime member of the American Legion and VFW.
Marlyn married the love of his life, Dorothy Mastin, on September 22, 1961, at the First Congregational Church in Buffalo Center. To this union two sons were born: Paul in 1962 and Todd in 1966. In 1994, they moved to Buffalo Center. Marlyn's soulmate Dorothy passed away from cancer in November 1996.
Marlyn was a member of the First Congregational Church in Buffalo Center and claimed Jesus Christ as his Lord and Savior.
Marlyn was an avid book reader, frequented many local libraries as well as Barnes and Noble, going to garage sales and flea markets, and was a vendor at several local threshing shows.
Marlyn's greatest love and priority was that of his family and spending time with his children and grandchildren. He is survived by sons:, Paul (Diane) of Eden Prairie, MN, Todd (Heidi) of Lino Lakes, MN; and four grandchildren: Jacob (Kayla) of St. Louis Park, MN, Emily of Hopkins, MN, Jessica of St. Louis, MO, and Matthew of Lino Lakes, MN.
Marlyn was preceded in death by his parents: Nels and Olga (Erdahl) Hanson; his wife, Dorothy; sister, Hannah (Toquam); brother, Tilmer; and sister, Norma (Bilau).
Schott Funeral Homes in Forest City and Lake Mills is assisting the family. To leave an online condolence, visit: www.schottfuneralhomes.com.
In lieu of flowers, memorials may be directed to the Timely Mission Nursing Home in Buffalo Center. Cards for Marlyn's family may be mailed directly to Mittelstadt Funeral Home, 902 E. Main St., Lake Mills, IA 50450, with Attn: Marlyn Hanson Family on the outer envelope.
Category:
The Buffalo Center Tribune
The Buffalo Center Tribune
PO Box 367
Buffalo Center, IA 50424
Phone: 641-562-2606
Fax: 1-800-340-0805
Email: bctrib@wctatel.net
Mid-America Publishing
This newspaper is part of the Mid-America Publishing Family. Please visit www.midampublishing.com for more information.