Margaret Murra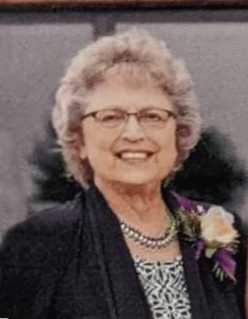 Margaret "Meg" Louise Murra, age 77, of Lake Mills,  formerly of Bricelyn, MN, died on Thursday, November 25, 2021 at St. Mary's Hospital in Rochester, Minnesota. A funeral service for Meg was held at 10:30 a.m. on Saturday, December 4, 2021 at Community Chapel, 618 County Road P60, Lakota, with Pastor Ron Wheeler officiating. Visitation was on Friday, December 3, from 4:00 to 7:00 p.m. at Schott Funeral Homes-Mittelstadt Chapel, 902 E. Main St. in Lake Mills and continued one hour prior to the church service on Saturday. Burial took place in the Olena Mound Cemetery, Buffalo Center.
Margaret (Meg) Louise Murra was born in Rake in the house her grandpa, Jacob Herem, built when he moved to America from Norway. She attended Rake School and graduated from Hillcrest Lutheran Academy in Fergus Falls, MN. While there, she loved cheerleading and singing in every ensemble and choir she could.  She accepted Jesus into her heart at a young age and loved the process of growing in her relationship with Him and how His love for her sustained her and gave her joy.
She married Dave Murra on August 10, 1963. They started their married life in Thompson, later moving to the Swea City area. In 1971, they bought their farm in Bricelyn, MN. Their union was blessed with three daughters: Cynthia Louise, Denise Joy and Rachel Marie.
Meg spent her life helping Dave on the farm and lovingly raising her girls. Community Chapel was the center of her life. Half an hour ride to church meant singing, singing and singing. All of the singing was to warm up for Sunday night Hymn Sings, a favorite. Meg loved mission conference, Maranatha women's group and VBS.  All in all, Meg loved fun. Yearly swimming parties, birthday parties, vacations, and table games are all wonderful memories. Most of all, Dave and Meg loved fellowshipping over coffee and pie with friends and family. They moved to their current residence in Lake Mills in 2003. They went to every game and school event of their children and grandchildren. Every birthday, you would get your birthday call from Meg and Dave at 7:00 AM (sometimes earlier).
Meg is survived by her husband, Dave; daughters, Cindy (Kenny) Brandt, Denise (Wynn) Hanson, and Rachel (Cory) Sheldahl; and a son-in-law, Mark Johnson. From these marriages came 12 grandkids, and soon to be 15 great-grandkids.
She was preceded in death by her parents, Richard and Alma Gravley; an infant brother, Charles David; a grandson, Maxwell Johnson; and a brother-in-law, Don Magee.
Schott Funeral Homes in Lake Mills is assisting the family with arrangements. Online condolences may be left for the family at www.schottfuneralhomes.com
Category:
The Buffalo Center Tribune
The Buffalo Center Tribune
PO Box 367
Buffalo Center, IA 50424
Phone: 641-562-2606
Fax: 1-800-340-0805
Email: bctrib@wctatel.net
Mid-America Publishing
This newspaper is part of the Mid-America Publishing Family. Please visit www.midampublishing.com for more information.