Larry Dirksen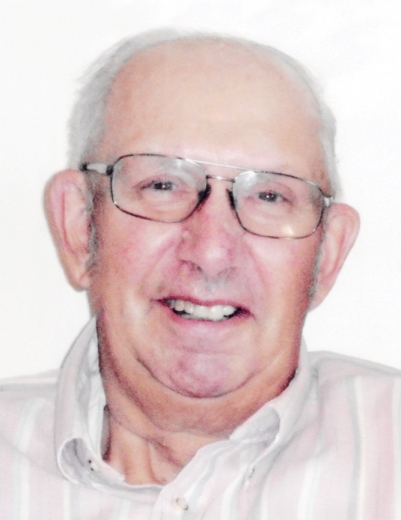 Larry Dirksen, 85, died Tuesday, March 23, 2021 at Good Samaritan in Forest City. A funeral service was held on Friday, March 26, 2021, at the First Congregational Church in Buffalo Center. Interment was in Graceland Cemetery in Buffalo Center with Military Honors conducted by the VFW Post #4824 and American Legion Post #21, Buffalo Center. The funeral and graveside can be viewed on Oakcrest Funeral Services' Facebook page at https://www.facebook.com/oakcrestfuneralservices.
Larry Dean Dirksen was born September 7, 1935, near Hutchins to Henry and Anna (Tjarks) Dirksen. He attended Country School and graduated from Woden High School in 1954. After graduation, he worked various jobs before being drafted into the United States Army in 1958. He was stationed in Frankfort Germany, and he was honorably discharged in 1960.
During his time in the service, he began writing a special young lady that eventually became his wife. On August 4, 1961, Larry was united in marriage to Ruth Schreur in Kanawha at the Christian Reformed Church. They lived in Britt for a few years before moving to a farm by Woden. There they worked on the farm, raised their family, and were involved in the community. They were members of the Woden Christian Reformed Church, where they served faithfully for many years. In 1995, they moved to Buffalo Center, where they attended and served at the First Congregational Church.
Larry loved the farm life and continued to drive out to the farm every day as long as he was able. He enjoyed fishing, riding his motorcycle, and being with family. Larry trusted Christ as his Savior when he was in his teens. His faith was always quiet and steady, which was shown out by the way he lived. He loved Psalm 23 and Romans 8. He proved to be a wonderful Godly example to his children, grandchildren, and great-grandchildren.
Larry passed away peacefully on Tuesday, March 23 at Good Samaritan in Forest City, where he had been a resident for the past three years. Larry became close to some of the workers there who often called him "Larry D or Papa Larry."
He is survived by his children, David (Karen) Dirksen of Woden, Susan (Bruce) Vriezen of Marion, and Mike Dirksen of Ogden; twelve grandchildren, nine great-grandchildren, brothers, George Dirksen of Hayfield and Denny (Rosie) Dirksen of Forest City; sister, Janice (Gerald) Meyer of Rockford; sister-in-law, Lisa Dirksen of Titonka, and many nieces and nephews. He was preceded in death by his parents; wife, Ruth; brother, Al Dirksen; and brother-in-law, Robert Schreur.
Online condolences may be left at www.oakcrestfuneralservices.com
Category:
The Buffalo Center Tribune
The Buffalo Center Tribune
PO Box 367
Buffalo Center, IA 50424
Phone: 641-562-2606
Fax: 1-800-340-0805
Email: bctrib@wctatel.net
Mid-America Publishing
This newspaper is part of the Mid-America Publishing Family. Please visit www.midampublishing.com for more information.