Kathryn Lloyd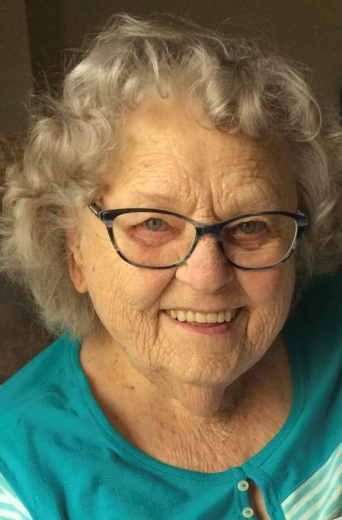 Kathryn Lloyd, age 96, of Ledyard, passed away on Tuesday, December 1, 2020 at MercyOne North Iowa in Mason City. A Celebration of Life service will be held at 10:30 a.m. on Saturday, August 28, 2021 at Bethany E. & R. Church in Ledyard. The service will be live streamed on the church's Facebook page https://www.facebook.com/BethanyEandR. Interment will be in Highland Home Cemetery. Her family will greet friends one hour prior to the service at the church on Saturday and will continue following the service at the luncheon in the church basement.
Kathryn Elizabeth (Baumann) Lloyd was born on May 3, 1924 in Ledyard, the daughter of Fred and Elizabeth (Post) Baumann. She grew up in Ledyard, attending Ledyard High School through the 11th grade. She was married to Marvin J. Lloyd on January 24, 1941, in Fairmont, MN. She lived in Ledyard all her life except for two years in California while her husband was in the service.
She enjoyed gardening, flowers, bird watching, and cooking. She was a member of the E&R Church.
Kathryn is survived by her sons, Larry Lloyd and wife Kay of Frost, MN, and Robert Lloyd and his partner Jeff Schneider of Portland, OR; two granddaughters, Julie (Marcus) Reeves-Martin of Rochester, MN, and DiAnna Montgomery of Arnolds Park; five great-grandchildren, Christina, Alicia, Riley, Cassidy, and Ally; and many nieces and nephews.
She was preceded in death by her husband, Marvin; parents, Fred and Elizabeth; brothers, Otto, William, and Irvin Baumann; and two sisters, Ida Rienke and Elsie Anderson.
In lieu of flowers, memorials may be directed to her family through the "Support Family" link on her obituary page, or sent to North Iowa Food for Families, P.O. Box 124, Buffalo Center, IA 50424, in memory of Kathryn.
Oakrest Funeral Services of Bancroft is assisting the family with arrangements. Online condolences may be left for the family at www.oakcrestfuneralservices.com
Category:
The Buffalo Center Tribune
The Buffalo Center Tribune
PO Box 367
Buffalo Center, IA 50424
Phone: 641-562-2606
Fax: 1-800-340-0805
Email: bctrib@wctatel.net
Mid-America Publishing
This newspaper is part of the Mid-America Publishing Family. Please visit www.midampublishing.com for more information.