John Burke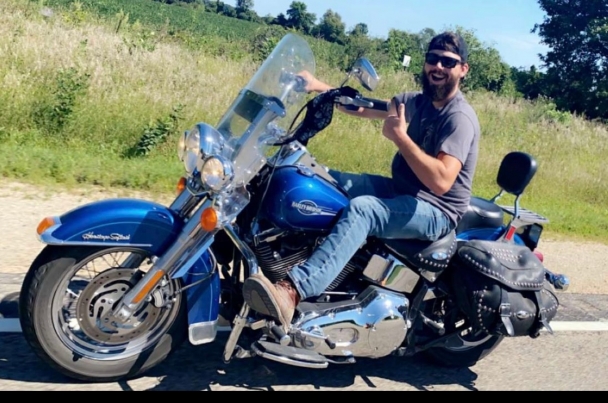 John Paul Burke, age 27, of Lakota, passed away on Tuesday, August 18, 2020, at St. Mary's Hospital in Rochester, MN, from a herniated brain stem injury sustained in a motorcycle accident that occurred on Aug. 16, 2020.
A celebration of life was held at 10 a.m. Saturday, Aug. 22, at the Winnebago County Fairgrounds in Thompson with Pastors Rod Hopp and Zech Anderson of Bethany Lutheran Church of Thompson officiating. A gathering of friends and family was held one hour prior to services.
Private family burial of his cremains was held at Rose Hill Cemetery in Thompson immediately following the service.
John was born on Jan. 11, 1993, in Rochester, MN, the son of James Burke Sr. and Carolyn (Johnson) (Burke) Flo. He was baptized at St. Charles Borromeo Catholic Church of St. Charles, MN, and confirmed at Bethany Lutheran Church of Thompson. This unique Christian combination resulted in John claiming to be a "Catheran".
John graduated from North Iowa Community Schools of Buffalo Center in 2011. He served in the Air Force for six years at Nellis Air Force Base as an Electrical Power Production Engineer. He received the rank of Senior Airman. During that time, he built hospitals in the Dominican Republic and landing strips in Greenland. The last two years, John returned home and worked for the City of Buffalo Center, loved by many as "John the Garbageman".
John's greatest loves in his life were his huskies-Kota and Sophie.
At a young age, John found his love for anything he could take apart and put back together. He enjoyed buying old cars and bringing them back to life-his favorite being his El Camino. In later years, John especially enjoyed riding his motorcycle with friends.
Beyond working on cars, John's talented hands also loved to create through the art of drawing and graffiti.
John was an avid fan of the outdoors, where you could find him snowboarding, tubing down the river, or kayaking on a lake or river. He also enjoyed hunting and was proud of his 10-point buck named "Murphy".
John has been known to enjoy quality time with friends, often seen with a contagious smile on his face, a cold beer in his hand, and a witty sense of humor that could make anyone laugh.
He is survived by his parents: James Burke Sr. of St. Charles, MN, Carolyn and Scott Flo of Thompson; grandfathers: Bill Burke of St. Charles, MN; Eston Johnson of Thompson; grandmother, Eileen West of Mason City; siblings: James Burke, Thomas and Patrick Flo of Thompson, Cassandra Burke of Iowa City, Jacob Burke and Lexi Burt of St. Charles, MN; godchildren: Jax and Quentin John Earp of Buffalo Center; and many aunts, uncles, and cousins.
John was preceded in death by grandmothers: Joanne (Koepsel) Burke, and Linda (Pech) Johnson; grandfather, Jon C Flo; aunt, Patricia Burke; and great-uncle, Doug Pech.
In lieu of flowers, the family asks that you donate to Mission 22 (veteran suicide awareness) or Life Source (organ, eye & tissue donation) in memory of John.
Category:
The Buffalo Center Tribune
The Buffalo Center Tribune
PO Box 367
Buffalo Center, IA 50424
Phone: 641-562-2606
Fax: 1-800-340-0805
Email: bctrib@wctatel.net
Mid-America Publishing
This newspaper is part of the Mid-America Publishing Family. Please visit www.midampublishing.com for more information.