Jake Gene Winter, Jr.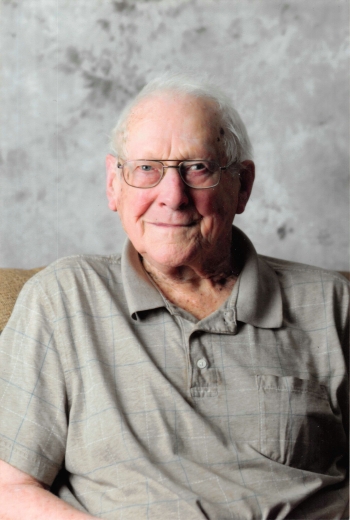 Jake Gene Winter, Jr. age 94, died Monday, December 21, 2020, at the Timely Mission Nursing Home in Buffalo Center. A private family funeral service was held at 11 a.m. on Monday, December 28, at Bethlehem Lutheran Church in Buffalo Center. Burial was held in Graceland Cemetery. The funeral service and graveside service was live-streamed on Oakcrest Funeral Services' Facebook page, www.facebook.com/oakcrestfuneralservices. A memorial service for Jake will be held at a later date.
Jake was born November 11, 1926 in Buffalo Center, the son of Jake and Mary (Betels) Winter. He grew up on a farm east of Buffalo Center. He survived Spinal Meningitis when he was five and started school two years late. He graduated from Buffalo Center in 1946.
On February 27, 1949, Jake was united in marriage to Arlene Hazel Skaare of Rake at the Bethlehem Lutheran Church in Buffalo Center. They enjoyed 69 years together. Jake stayed involved in the Bethlehem Lutheran Church throughout his life.
Jake worked for several farmers around the Buffalo Center area and drove school bus part time until he started work at the Buffalo Center Community School as a custodian in 1961. Jake retired from custodial work in 1989 and continued to drive bus until 2004. He was very involved in all the school sports activities, driving 'pep' and players' buses; and worked on the football chain gang for more than 30 years. Jake was very active and never liked sitting around. He played softball on the church leagues and spent as much time as he could on the golf course. At night he could be found playing cards with friends and family; and during the day tinkering in the garage and visiting with neighbors.
He is survived by his son, Tom (Jeanie) Winter; a daughter, Cynthia (Jay) Hagen; three grandchildren: Brandi (John) Will, Melissa (Kris) Logue, Mitch (Dannielle) Hagen; great-grandchildren: Brady and Melene Will, Liam and Owen Logue, Brylee, Charlette and Julian Hagen; a step great-grandchild, Coleton Logue; brothers-in-law: Lloyd Gray, Jerry (Sharyon) Skaare, Lois (Wayne) Hayes; and 27 nieces and nephews.
Jake was preceded in death by his wife, Arlene Winter; parents: Jake and Mary (Betels) Winter; mother-in-law and father-in-law: John and Celia Skaare; son, Craig Winter; brothers and spouses: John and Marion Winter, Alvin and Gladys Winter, Richard and Gloria Winter; sister and spouse, Ann and Lyle Patterson; sister, Sharon Gray; sisters-in-law and brothers-in-law: Inez and Robert Liverca, James Skaare, Carol Gossman, Ronnie Skaare; niece, Cheryl Liverca; and nephews: Keith Winter and Dennis Winter.
In lieu of flowers, memorial donations may be made to North Iowa Community School, Buffalo Center Ambulance, Bethlehem Lutheran Church, or Hospice of Southern MN, in Jake's name.
Oakcrest Funeral Services in Buffalo Center is assisting the family. Online condolences may be left at www.oakcrestfuneralservices.com
Category:
The Buffalo Center Tribune
Mid-America Publishing
This newspaper is part of the Mid-America Publishing Family. Please visit www.midampublishing.com for more information.