Howard Michaelson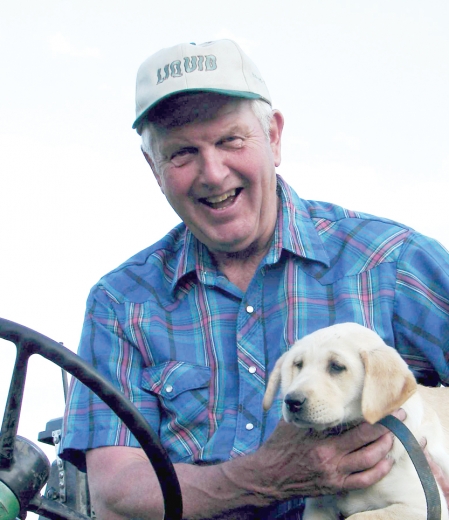 Howard Michaelson, 82, passed away unexpectedly on his farm east of Buffalo Center on Wednesday, Feb. 3, 2021. A public funeral service was held at 2 p.m. on Tuesday, Feb. 9, 2021 at the First Reformed Church in Buffalo Center, with Rev. William Peake officiating. Visitation took place one hour prior to the service at the church. Burial followed the service at the Olena Mound Cemetery, Buffalo Center.
Howard's service was streamed live on the Schott Funeral Homes website. Go to www.schottfuneralhomes.com, click on Howard's photo, and from his obituary page, click on "tribute wall" tab to find the webcast link.
Howard Jerome Michaelson was born on April 25, 1938, to parents Harold and Irma (Friesenborg) Michaelson on a farm near Thompson. He attended school at a country school in Eden Township, then Crystal Lake High School, and later graduated from Lake Mills High School. He was confirmed in faith at Bethany Lutheran Church in Thompson.
On December 16, 1967, he married Elaine Ricks at First Reformed Church in Buffalo Center by Reverend Vander Schaaf. They first made their home on a farm near Rake, later settling permanently southeast of Buffalo Center. They were blessed with two daughters during their marriage.
Howard spent his entire life on the farm, doing what he loved until the day he died. He started working on the farm as hired help for Lois and Ben Hoveland. When Ben passed away, Howard took over the operations in his early 20s. He next farmed the Ricks family farm where Elaine grew up. Later, he purchased his own land, which he continued farming to this day. He also had a farrow to finish hog operation for several years. For many years he worked with Jeff Doyle on the farm. For the last several years, he farmed with his daughter, Lori. Besides farming, he also enjoyed doing woodworking projects – especially those for his family.
He served as a Director and Treasurer of the Winnebago County Farm Bureau Board, where he met his wife, Elaine. He was a member and president of the Rake Rockin' R's square dance club. He was also a member of the Winnebago Pork Producers. He served on the consistory as deacon and elder at various times at the First Reformed Church.
As a quiet, reserved man, he cared deeply for his family and friends around him. He might not have expressed how he felt, but he would be there in a time of need, lending a helping hand. His extended family included several young men who he mentored as they helped him on the farm.
Howard is survived by his wife of 53 years, Elaine, of Buffalo Center; daughter, Amy (Pat) Igou of Cedar Falls; daughter, Lori (Matt) Bertram of Buffalo Center; his brother, Jerry of Forest City. He is survived by his sister-in-law, Donna Michaelson of Rochester, MN; brother-in-law, Ron Ricks of Buffalo Center; brother and sister-in-law Harry and Delores Phipps, and Ed and Judy Ricks with several nieces and nephews. He is also survived by life-long friend and neighbor, Eleanor Murray.
He is preceded in death by his parents; his brother Larry; and his parents-in-law Edgar and Jennie Ricks.
Online condolences for the family may be left at www.schottfuneralhomes.com
Category:
The Buffalo Center Tribune
The Buffalo Center Tribune
PO Box 367
Buffalo Center, IA 50424
Phone: 641-562-2606
Fax: 1-800-340-0805
Email: bctrib@wctatel.net
Mid-America Publishing
This newspaper is part of the Mid-America Publishing Family. Please visit www.midampublishing.com for more information.