Helen L. (Bergum) Eichenberger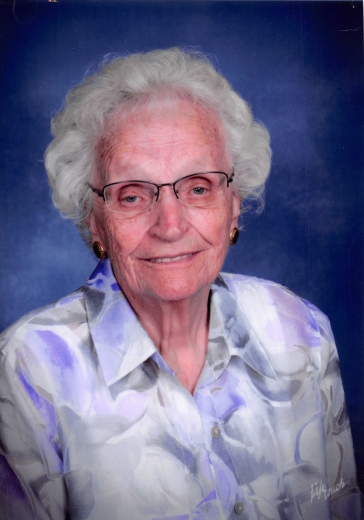 Helen L. (Bergum) Eichenberger, age 96, of Lakota, died Friday, November 20, 2020. A private family funeral service will be held at 11 a.m. on Saturday, November 28, 2020, at Oakcrest Funeral Services in Algona. Burial will be in Greenwood Township Cemetery. The funeral and graveside service will be live-streamed on Oakcrest Funeral Services' Facebook page. In lieu of flowers, memorials may be directed to the Parkinson's Foundation or Accura Healthcare of Bancroft.
Helen was born July 24, 1924, in Bancroft, the daughter of Iver and Katherine (Walders) Bergum. She attended country school before attending and graduating from Bancroft High School.
Helen was united in marriage to Lloyd Eichenberger on November 28, 1948 on her parents' farm. They farmed in the Lakota and Bancroft area. Helen remained on the farm until she moved to Stonebridge Suites in 2016.
Helen enjoyed gardening, reading, and making meals for her family. Her potato salad, apple pie, strawberry pie, caramel rolls, cinnamon rolls, and molasses cookies were some of the family favorites. She prepared many, many Thanksgiving and Christmas family meals and enjoyed doing it. Christmas was her favorite time of the year. She also loved attending any sporting events, musical events, plays, dance, etc. that her children and grandchildren were a part of. She was probably one of the loudest cheerleaders at the sporting events.
4-H was special to her family, and those blue ribbons (or better) received for the gardening projects were due to her gardening skills. For many years she made a meal of fried chicken, potato salad, and apple pie for all of us to enjoy during the lunch break at the annual swine show at the Kossuth County Fair. That was a family tradition we will never forget.
Family was everything to her, and she cherished the time she spent with her children, grandchildren, great-grandchildren, and great-great-grandchildren. You were sure to hear a story about one of them whenever you talked to her.
Helen was a member of St. Paul Lutheran Church in Lakota and a former member of Immanuel Lutheran Church in Bancroft. She was a Sunday School teacher for a number of years and also a Girl Scout Leader.
She is survived by five children: Lowell (Marilyn) Eichenberger of Lakota; Lloyd (Linda) Eichenberger of Lakota; Lisa Eichenberger of North Mankato, MN; Lon (Martha) Eichenberger of Brewster, MN and Larry (Kimberly) Eichenberger of Lakota; 12 grandchildren; 17 great-grandchildren; four step-great-grandchildren; five step-great-great grandchildren; a sister-in-law, Lucille Reese; brother-in-law, Walter Eichenberger; sister-in-law, Jean Eichenberger, and many nieces and nephews.
Helen was preceded in death by her parents; husband, Lloyd; a son, Loren, in infancy; a great-grandchild; four brothers; Ray, Carl, Christopher and Art Bergum; sister, Julia Pettiecord; niece, Audrey (Bergum) Gabel; nephew, James Bergum and many sisters-in-law and brothers-in-law.
Oakcrest Funeral Services in Algona is assisting the family. To leave an online condolence, visit www.oakcrestfuneralservices.com
Category:
The Buffalo Center Tribune
The Buffalo Center Tribune
PO Box 367
Buffalo Center, IA 50424
Phone: 641-562-2606
Fax: 1-800-340-0805
Email: bctrib@wctatel.net
Mid-America Publishing
This newspaper is part of the Mid-America Publishing Family. Please visit www.midampublishing.com for more information.