Genevieve Hoeppner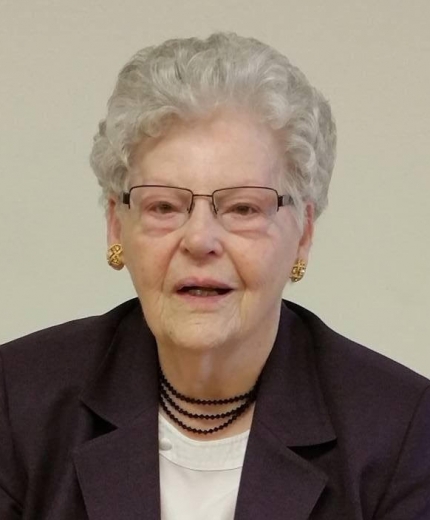 Genevieve Hoeppner died Sunday, January 17, 2021, at the Timely Mission Nursing Home in Buffalo Center. She was 96. A private family funeral service was held on Thursday, Jan. 21 at the First Presbyterian Church in Lakota. Burial was in Maple Hill Cemetery. Both the funeral and graveside service can be viewed on Oakcrest Funeral Services' Facebook Page.
Genevieve Meretta (Brewer) Hoeppner was born at home in Cloverton, MN to Sophia and James Brewer on November 27, 1924. Genie only weighed 2½ pounds, and the doctor did not expect her to survive, so he did not issue a birth certificate. As usual, she proved him wrong. She was the sixth of nine children.
In the late 1920s, the Brewer family moved to Rockford, where her maternal grandparents (Elizabeth and Emmett Fuller) lived. Genie's biological mom died in 1931 along with a baby sister. Her father was overwhelmed by the care of eight children and the loss of everything during the Depression. One day at a summer revival in the backyard of the grandparents, the preacher said if you gave your life to Jesus, you would receive a new life. Afterwards, Genie asked him "Where is my new life?" That fall, her new life began at school in Mason City. Lena Gutknecht, her second grade teacher, realized the family situation, and to help she would take Genie home to Lakota on weekends and then also the following summer.
Genie says that Lena's gift of kindness was the start of her strong Christian faith. In 1932, she refused to go back to Mason City and stayed, from then on, with Emma. So, her new family became Emma, Lena and Ed Gutknecht. She has said that many of her prayers have been answered, especially being "adopted" by Emma Gutknecht, which became formal in 1956 after Burdette and Genie were married.
She attended the country school on the corner of what later became the Hoeppner family farm. Genie graduated from Lakota High School in 1942 and went on to study teaching at Dubuque. After leaving Dubuque for a short time to care for a family in Florida, she returned to get enough teaching hours for a war emergency certificate. In 1945, Ledyard was her first job.
In the fall of 1946, she was hired to teach at Melvin. This is where the whole thing started. She met Burdette three days before school started at the first teachers' meeting. Genie's first words to him were, "Boy I am peeved at you!" His response was "What's that about?" He had the only decent lodging in town with all of the conveniences and fed him breakfast and supper. A few weeks later, Buena Vista College (Burdette's college) and Dubuque were playing each other in football. They bet that whoever lost had to take the other out for dinner, Genie lost.
Other dates followed, and he was always singing, "Take that ring off your finger!" because Genie was engaged to someone back home. She would respond, "Who do you think you are to have the best woman in town." Burdette left for Thanksgiving, but he stopped along the way and wrote a letter to her under a streetlight, as the story goes. It said he would miss having Thanksgiving with her, and he hoped she would get rid of the ring … she did. They were married six months later on Sunday afternoon, May 25, 1947 in the First Presbyterian Church at Lakota. They had a wonderful 71 years of marriage with many blessings along the way.
They returned to Melvin to teach another year, and their first child, Linda, was born. Then, Burdette took a teaching position in Auburn for a year before the Gutknecht's encouraged them to move to Lakota and take over the farm, as they were aging and needed help. Burdette and Genie moved to the Lakota farm the spring of 1950 and welcomed their second child, Burdette Charles. Three years later their third child, Emily joined the family.
When Burdette retired from farming, they decided to open Genie's Home Décor in Buffalo Center - taking advantage of Genie's home economics expertise. Their next adventure came after 40 years on the farm when they moved to a lake home in Waterville, MN. Genie loved to go fishing, and she could do it anytime right out the back door. They lived there until moving to Buffalo Center to be closer to family and friends. But she didn't give up on fishing. They spent their summers at Okoboji, where Burdette and Genie helped their nephew, Mike Hoeppner, at Village West. While there, they became the guest house for family and friends and threw in a few fish fries for fun.
No shrinking violet when it comes to cards, there was often fierce competition with friends and definitely with family of all ages. She loved to play and win and then offer encouragement to the losers. Genie made everyone welcome in their home and loved having her grandchildren especially for summer vacations and holidays.
Genie could have a fiery Irish temper, just ask her children. She also seemed to have the best of luck, whether she would ever admit it or not. But she only expected of others what she expected from herself. As a mother, grandmother and great grandmother, she instilled the power of education, the joy of service to others, and the confidence to be whatever makes you happy in life. "Whatever you put in your brain, no one can ever take away from you" was a frequent quote of Genie's.
Genie exemplified a life-time of giving, mentoring, serving people, and devotion to her church. For her, the Lord came first, then family. Over the years, Genie and Burdette took in seven boys in return for a job and a place to live. Among them are Jerry Lund and Danny Dietrich, who have remained in close contact. As a couple, they loaned cars, helped others with harvest, offered counseling, consolation and encouragement.
Genie said, "I'm not afraid of difficult tasks, and I never ask anyone to do a task that I would not do myself."
The Lakota Presbyterian Church was where her faith grew, completing catechism and then was confirmed and baptized at the same time. After returning to Lakota, she was member of the Women's Circle, sang in the choir, taught Sunday School, served as youth fellowship leader, and was director of the cherub choir. The Presbytery of North Central Iowa honored her as Outstanding Senior Presbyterian for her work representing the church on their governing board. All of Genie's children were baptized and confirmed in this church, both daughters were married in the church, one granddaughter was baptized in the church, and one great granddaughter was married there, too.
Genie was chairman of the Kossuth County Farm Bureau of Women. In addition, she was a 30-year member of Lakota Federated Acorn Study Club and belonged to the American Legion's Women's Auxiliary. Genie belonged to the Buffalo Center Ladies Literary Club and loved mysteries and "whodunits."
At age 10, Genie joined the Lakota Luckies 4-H Club, winning numerous county and state level awards including the top state award for angel food cake. Genie became the girls club 4-H leader, passing her passion for the organization and utilizing her experience to share its education and leadership philosophy to four generations.
Everyone knew she was a wonderful baker and loved to share her creations with family and friends. A few of her favorites were baking homemade bread, strawberry/rhubarb jam, fresh baked apple pie, and strawberry/rhubarb pies. Her specialties were decorated sugar cookies and making Christmas candies with family and friends. She loved cooking for her family but most of all on Sunday for sit down family dinners with everyone at the table.
An expert seamstress, Genie made many of her daughter's dresses, skirts, coats and costumes. She won sewing competitions, including a purple ribbon at the Kossuth County Fair for a homemade quilt that also received best of show at the State Fair.
There are a lifetime of stories to share, but everyone who knows Genie knows she is famous for her rendition of summoning "BURDETTE?" But now, they are joyfully reunited.
Genevieve was preceded in death by her loving husband Burdette, adopted family Emma Gutknecht, Lena Gutknecht, Ed Gutknecht; great granddaughter Tatum Lovgren; her birth parents Sophia and James Brewer, siblings Helen, Fletcher, June, James, Rilla, Florence, Claudia, and a baby sister.
She is survived by daughter Linda Lovgren (Robert), son Burdette Charles Hoeppner, daughter Emily Silber (Charles); grandchildren: Dr. Todd Lovgren (Drue), Laura Paul (Scott), Ryan Silber (Erin), Jamie Droessler (Mike), and Kristine Kowaleski; great grandchildren: Tyson, Colton, Barrett and Keagan Lovgren, Kathryn and Alexander Paul, MacKenzie Ree (Zac), Natasha Droessler (fiancé Brett Walton), and Gavin Droessler; as well as nieces and nephews.
Online condolences may be left at www.oakcrestfuneralservices.com
Category:
The Buffalo Center Tribune
The Buffalo Center Tribune
PO Box 367
Buffalo Center, IA 50424
Phone: 641-562-2606
Fax: 1-800-340-0805
Email: bctrib@wctatel.net
Mid-America Publishing
This newspaper is part of the Mid-America Publishing Family. Please visit www.midampublishing.com for more information.