Esther Haugen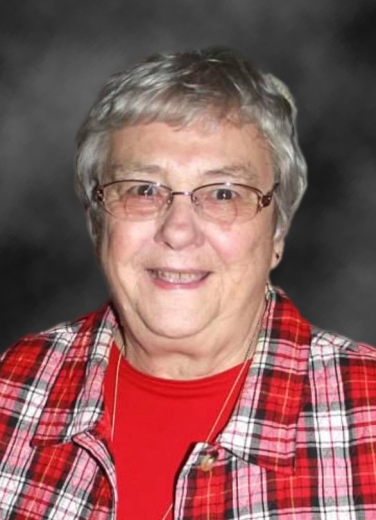 Esther Haugen, 93, died October 21, 2023 at Timely Mission Nursing Home in Buffalo Center. A funeral service was held 1 p.m. Friday, Oct. 27, 2023 at Zion Lutheran Church in Rake. Visitation was one hour prior to the service. Interment took place at West Lutheran Cemetery in Rake.
Esther Wilhemina Bertha, daughter of William and Millia (Brandt) Schumaker, was born February 15, 1930, in Wells, Minnesota. She was raised on a farm near Wells and graduated from Wells High School. Esther was united in marriage with Elvin O. Haugen August 15, 1954, at Good Shepherd Lutheran Church in Wells. The couple made their home in Rake.
Esther was a bookkeeper for various area businesses, including Moll Implement, Arnie Halverson Well Drilling, and Arnie's Pump Services & Well Drilling. She was also employed at the Barn/Gruis Recreation Area & Golf Course. Esther was a member of the bowling team and enjoyed golfing. She crocheted afghans, enjoyed yardwork, and was an avid reader. She was famous for her banana bread and kringla. Esther was an active member of Zion Lutheran Church and served as Ladies Aide President for three years.
Survivors include her children William (Claudia) Haugen, of León, Mexico and Jeri Jo Olson of Charlotte, MI; nine grandchildren; 10 great grandchildren; five great great grandchildren; daughter-in-law Benjie Haugen of Monticello, IL; sisters Alfreda "Fritz" (Carroll) Gullord of Buffalo Center and Gladys Borkowski of Albert Lea, MN; sister-in-law Phyllis Schumaker of Kiester, MN; and numerous nieces and nephews.
She was preceded in death by her husband Elvin in 2006; son Joseph Haugen in 2009; one great great grandson; brother Melvin Schumaker; sisters Lillian Kahler, Eleanora Hahn, and Helen Gaines; brother-in-law Allen Borkowski; and nephews Todd Schumaker and Paul Gullord.
Memorial contributions may be directed to Zion Lutheran Church in Rake, 107 Florence St., Rake, IA 50465 or East and West Lutheran Cemeteries. To leave an online tribute, visit www.oakcrestfuneralservices.com.
Category:
The Buffalo Center Tribune
Mid-America Publishing
This newspaper is part of the Mid-America Publishing Family. Please visit www.midampublishing.com for more information.