Donald Potter, Sr.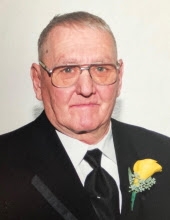 Donald D. Potter, Sr., age 83, of Elma, passed away on Tuesday, February 25, 2020 at Iowa Veterans Home in Marshalltown. A memorial service was held at 10:30 a.m. on Friday, March 6, 2020 at Zion Lutheran Church in Alta Vista with Pastor Sue Cira officiating. Military honors and burial rites will be held at 10:30 a.m. on August 14, 2021, at Graceland Cemetery, Buffalo Center. Pastor Paulette Hemann will conduct the burial rites.
Donald Dean Potter, Sr. was born on May 6, 1936 in Buffalo Center, the son of Richard and Agnes (Johnson) Potter. Upon graduation from Buffalo Center High School in 1954, he entered the US Navy. He served his country until 1962, when he received his honorable discharge. While in the Navy, Donald was stationed in North Carolina. After his naval career, he worked as a commercial fisherman. Donald returned to Iowa a short time later and began his farming career.
He enjoyed his family and friends. He loved playing cards and fishing. Donald was a member of the American Legion.
Donald is survived by his children, Tina Marie and Irvin Pickett, Thomas and Tammy Potter, Bruce Perkins, Lois Sanders, Paulette and Tim Hemann, Tim and Tonda Perkins, Dawn Edmonds, Donald Dean Jr. and Rachel Potter, Laine Riha, John and Lori Riha, and Toni and Brian Vrieze; his grandchildren, Joshua, Matthew, Christopher, Heather, Steven, Christopher, Yvonne, Traci, Jessica, Jeremy, Chalis, Shane, Bryonna, Lillian, Gavin, Amanda, Jesse, Heather, Danielle, Taylor, Jordan, and Brady; his siblings, Dolores Badje, Carol Jo and Jack Smidt, Sandra and Tony Mireles, and Rick and Linda Potter; and twenty-nine great grandchildren.
He was preceded in death by his parents; a daughter, Arelene Bugenhagen; and a grandson, Dean.
Category:
The Buffalo Center Tribune
The Buffalo Center Tribune
PO Box 367
Buffalo Center, IA 50424
Phone: 641-562-2606
Fax: 1-800-340-0805
Email: bctrib@wctatel.net
Mid-America Publishing
This newspaper is part of the Mid-America Publishing Family. Please visit www.midampublishing.com for more information.