Charles Hazel McGrady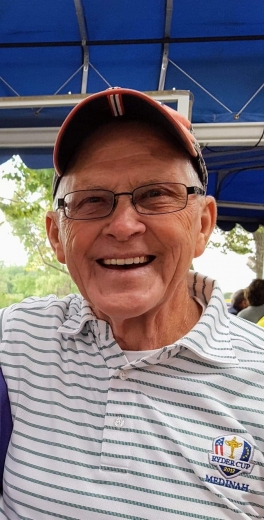 Chuck Hazel McGrady, age 78, of Buffalo Center, passed away peacefully at his home with his loving family by his side Tuesday, November 10, 2020. Funeral services were held Monday, November 16 at 11 a.m. at Bethlehem Lutheran Church in Buffalo Center with Rev. Mark Neumann officiating. A private family burial will take place at Graceland at a later date. Those that were unable to attend are invited to leave condolences and view a live stream of the service at www.pattonfh.com.
Charles was born June 25, 1942, in Mason City. He attended school in Clear Lake, and Roseburg, OR. He entered the United States Navy in 1960, where he served on the USS St. Paul, which was ported in Yokosuka, Japan. Chuck visited many countries and seaports during his time of service. While serving he earned his GED and later in life was honored by the Clear Lake School Board and awarded a high school diploma. After his time in the service Chuck went on to California, where he worked many different jobs, even a crop duster pilot! He eventually headed back to the Midwest, where he went to work painting bridges and water towers. Chuck's love of painting took him to Rochester, MN in the late '70s, where he embarked on a life-long journey of success with McGrady Painting. Upon his diagnosis, he was grateful to "pass the brush" onto his daughter Kelsey.
Chuck was united in marriage to Jennifer Burnside February 25, 1983, in Detroit Lakes, MN, where they began their family. They moved to Houston, TX, where they lived for five years. Their desire to be closer to family took them to Northern Iowa. They called Lake Mills home for 27 years, before moving to Buffalo Center.
Chuck was a member of Bethlehem Lutheran Church, where he loved attending services. Along with his faith life, he was involved in Pheasants Forever, Lions Club, many coaching and parent activities, an AA member and mentor, several community organizations, and most recently was proud to be a driver for the Buffalo Center Volunteer Ambulance Crew.
Chuck enjoyed golfing, always said "you have to work hard if you want to play hard", and loved golfing trips with his brother and brothers-in-law, hunting, fishing, playing chess, and watching his beloved team on TV - Go Hawkeyes. He spent his life supporting school athletics, as well as community events. He loved going on yearly trips with Jen to some amazing destinations. His greatest joy was found in spending time with his children and grandchildren.
Left to cherish such wonderful memories are his wife, Jennifer; daughters: Kelsey (Jesse) Bosma, Jodie Graupmann and Katherine McGrady; siblings: Michael (Rosan) McGrady, James (Jackie) McGrady, Jamie (Pat) Rowen, Margaret (Tom) McGrady-Adams, Mary (Paul) Skoglund; grandchildren: Anjel, Brian, Charlie, Kaiden, Gabby, Wyatt, Steven, Anthony, Mathew and Alex; mother-in-law, Marianne Burnside; as well as many other nieces, nephews, relatives and friends.
Chuck was preceded in death by his parents; son, Chuck Jr; daughter, Flower; grandson, Titus; granddaughter, Megan; sister, Loma; stepbrother, Butch; father-in-law, Clarence Burnside; and brother-in-law, Alec Burnside.
Blessed be the memory of Charles Hazel McGrady.
Patton Funeral Home and Cremation Service in Blue Earth, MN is assisting the family. To leave an online condolence, visit www.pattonfh.com
Category:
The Buffalo Center Tribune
The Buffalo Center Tribune
PO Box 367
Buffalo Center, IA 50424
Phone: 641-562-2606
Fax: 1-800-340-0805
Email: bctrib@wctatel.net
Mid-America Publishing
This newspaper is part of the Mid-America Publishing Family. Please visit www.midampublishing.com for more information.