Beatrice Smoley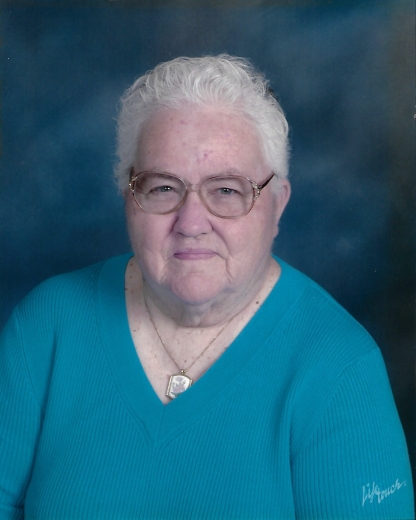 Beatrice "Bea" Ann Smoley, age 88, of Buffalo Center, passed away Friday, September 24, 2021 at Timely Mission Nursing Home in Buffalo Center. A funeral service will be held Friday, October 1, at 10:30 a.m. at United Methodist Church in Buffalo Center. Burial will follow at Graceland Cemetery. A visitation will take place on Thursday from 5 to 7 p.m. at Oakcrest Funeral Home – Winter Chapel in Buffalo Center.
Bea was born on September 12, 1933 in Manly, the daughter of Roy and Helen (Stickfort) Gallion. She attended school in Manly, graduating from Manly High School in 1951. She studied education for two years at Jr. College in Mason City. Bea then taught school in Manly for two years and then Thompson for one year. She was married to Clyde Johnson, and together they had four children before divorcing. Bea was a homemaker and also worked as a cook and an aid at Timely Mission Nursing Home. Bea married Ray Smoley on March 24, 1964 in Manly. Together they had two children. She enjoyed embroidery and making baby quilts for her grandchildren and great grandchildren. Bea was a member of the VFW Auxiliary of Armstrong and the American Legion Auxiliary of Buffalo Center. She was also a member of United Methodist Church in Buffalo Center.
She is survived by her children, Craig (Teresa) Johnson of Nerstrand, MN, Clyde Johnson Jr. of Buffalo Center, Kimberly (Eugene) Geopfert of Britt, Charles (Christy) Smoley of Forest City, and James Smoley of Fort Dodge; grandchildren, Tracy (George) Hemphill, Marcus (Cassie) Johnson, Randall (Holly) Johnson, Trent Johnson, Aaron Johnson, Dustin Johnson, Nicole (Denny) Riggens, Sarah (Doug) Ribbons, Melissa (Ben) Hjelle, Tanner Smoley, Paige Oetker, Jacob Oetker, Megan Oetker, and Katie Luth; 19 great-grandchildren; two great great grandchildren; sisters, Roberta (Merrill) Cooper and Sharon (Richard) Bosma all of Mason City; brother, Edward (Arlene) Gallion of Manly; and sister-in-law, Patricia Miller of Spencer, WI.
Bea's husband, Ray, preceded her in death. She is also preceded in death by her parents, four-month-old daughter, Debra Johnson, grandson, Jeremy Johnson, and brother, DuWayne Gallion.
Oakcrest Funeral Home in Buffalo Center is assisting the family with arrangements. Online condolences may be left at www.oakcrestfuneralservices.com
Category:
The Buffalo Center Tribune
The Buffalo Center Tribune
PO Box 367
Buffalo Center, IA 50424
Phone: 641-562-2606
Fax: 1-800-340-0805
Email: bctrib@wctatel.net
Mid-America Publishing
This newspaper is part of the Mid-America Publishing Family. Please visit www.midampublishing.com for more information.