Andre Torkelson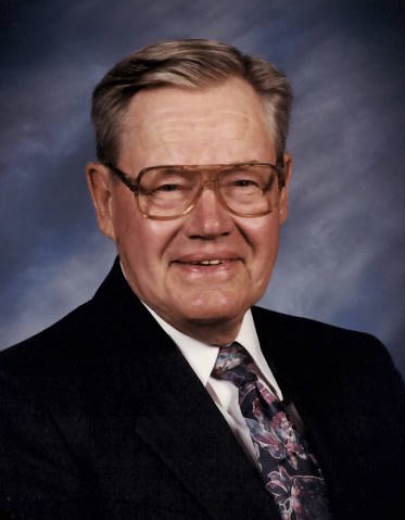 Andre G. Torkelson, age 94, formerly of Rake, passed away peacefully on Wednesday, September 8, 2021 at St. Luke's Lutheran Care Center in Blue Earth, MN. Funeral services will be held at 1:30 p.m. on Friday, September 17, 2021 at Patton Funeral Home in Blue Earth, MN with Rev. Robert Roettger officiating. Burial will be in West Cemetery, Rake. Visitation will be held a half hour prior to the service at Patton Funeral Home.
Andre was born on March 21, 1927 in Faribault County to Sven and Esther Torkelson. He attended Elmore High School, graduating in 1945. He then joined the United States Army, admirably serving his country before being Honorably Discharged as a Sergeant.
On May 24, 1953, Andre married the love of his life, Arden D. Rau, at Grace Lutheran Church in Fairmont. Together, they raised three devoted sons: Paul, Eric, and Craig.
While on duty overseas, Andre developed a deep fondness for traveling. The family would crisscross the United States over the years as Andre passed on his love of exploring to his children and grandchildren. Andre and Arden would continue their travels long into their retirement, but all roads would eventually lead back to the farm.
A farmer all his life, Andre believed in the importance of a hard day's work. He relished life on the farm and wouldn't have chosen to build his family anywhere else. In his small town, Andre found a deep appreciation for community. His commitment to this community was best exemplified by his many years of service dedicated to education. He served with distinction for 20 years on the Rake Community School Board and another six on the Board of Education of Northern Trails Area Education Agency. In 1988, his efforts were further recognized when he received a distinguished service award from Iowa Lakes Community College.
He is survived by his sons, Dr. Paul Torkelson (Maribeth Burt) of Reno, NV, Eric (Suzanne) Torkelson of Des Moines, and Craig (Colleen) Torkelson of West Des Moines; his sister, Betty (Don) Gangstee; six grandchildren; and four great-grandchildren.
Andre is preceded in death by his parents and his wife, Arden.
He is remembered fondly as a friend to all and will be dearly missed.
Patton Funeral Home in Blue Earth is assisting the family with arrangements. In lieu of flowers, please send any memorials to the St. Luke's Lutheran Care Center, Blue Earth, MN. Web tributes and live streaming are available at www.pattonfh.com
Category:
The Buffalo Center Tribune
The Buffalo Center Tribune
PO Box 367
Buffalo Center, IA 50424
Phone: 641-562-2606
Fax: 1-800-340-0805
Email: bctrib@wctatel.net
Mid-America Publishing
This newspaper is part of the Mid-America Publishing Family. Please visit www.midampublishing.com for more information.