Alice Johnson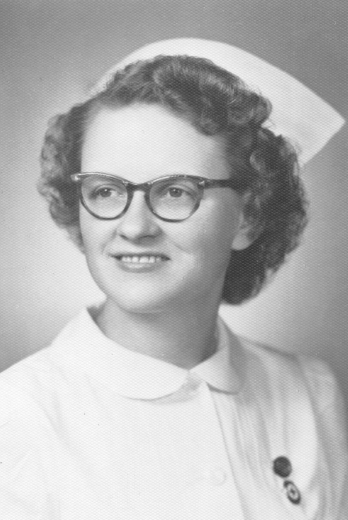 Alice Johnson, 98, passed away peacefully on May 13, 2021 at Laurens Peak Nursing Home in Mankato, MN. A funeral service was held at 2:00 p.m. on Saturday, May 22, 2021, at the Bethany Lutheran Church in Thompson with visitation 1 hour prior. Burial was in Rose Hill Cemetery in Thompson. Both the funeral and graveside can be live-streamed on Oakcrest Funeral Services' Facebook page.
Alice was born September 10, 1922, in Forest City, the daughter of John and Sophie (Ness) Ullestad. She grew up on a farm near Forest City. She was Baptized and Confirmed at the Bethany Lutheran Church in Thompson and graduated from Thompson High School in 1942.
After high school, she left home to study at the Lutheran Deaconess Hospital in Chicago, IL and graduated as a Registered Nurse. She then went on to get her Bachelor of Science in Nursing through Luther College in Decorah. She spent the summer of 1949 nursing children with polio in Oklahoma City, OK. She also attended the Lutheran Bible Institute (LBI) in Minneapolis, where she met her future husband.
On September 1, 1957, she was united in marriage to Reverend Clarence James Johnson at Bethany Lutheran Church in Thompson. Together they ministered to churches in four states, including three parishes in Montana, two each in North Dakota and Iowa, and one in Minnesota. Alice worked as OR supervisor at Palmer Memorial Hospital in West Union from 1966 to 1978 and at Lutheran Sunset Home in Grafton, ND from 1978 to 1982, where Clarence served as Chaplain. On May 30, 1982, shortly after Clarence accepted a call to St. Donatus, IA, their oldest son James Timothy was killed by a drunk driver in Fargo, ND. In 1987, Clarence accepted his last Call to serve the two-point parish of Immanuel Lutheran Church in Plummer, MN, and Ebenezer Lutheran Church in rural Oklee, MN. They remained there until Clarence died suddenly on May 30, 2000. Following his death, Alice moved to a townhome in Mankato, where she lived independently until late 2015. She lived at Regina Assisted Living in Hastings, MN until August 2017, when she moved to Laurels Edge Assisted Living, then later to Laurels Peak Nursing Home in Mankato.
Alice loved to sew, knit, crochet, arrange flowers and do other handicrafts. She sewed and collected dozens of needed supplies including quilts, blankets, school supplies, shoes, and clothing, which were donated to Haiti after the earthquake in 2010. These items went to orphaned children, and she proudly kept pictures from the orphanage showing the quilts and blankets she had made on the children's beds. She loved flowers, especially roses and lilacs, and always had a flower garden. She made the best rice pudding, lefsa, and kumla. She was always up for travel and adventure, recalling the beauty of God's creation from visits to the International Peace Gardens on the US/Canadian border, and Butchart Gardens in Victoria, British Columbia.
She is survived by her daughter, Carol Johnson (John Anderson) of Fargo, ND; son, David (Yolanda) Johnson of Indio, CA; granddaughter Alissa (Cory) Helm of Fargo ND; and great-grandson, Asher James Helm of Fargo, ND. Alice is also survived by three sisters, Stella (Thomas) Dahl of Elmore, MN; Mavis (Rev. Richard) Erickson of Edina, MN; and Clara (Dale) Gettis of Forest City; and sister-in-law, Rosella (Jonas) Ullestad of Hanlontown, as well as many nieces and nephews.
Alice was preceded in death by her husband Clarence and son James; her parents, brothers Tom and Jonas, and sisters Stella Jeanette (infant), Martha (Reuben) Hamre, Olive (Roger) Graber, Judith (Donald) Richards, Amy (Goodwin) Boyum, and Jennie Ullestad.
A special thanks to all her family and friends and the staff of Regina Assisted Living in Hastings and Laurels Peak and Laurels Edge in Mankato for all they did for her over the years. Special thanks to neighbor Holly Thorson and friend Gloria Johnson from Mankato, who watched out for and looked after Alice for the past 20 years.
Our family would like to express our sincere gratitude for your thoughts and prayers as we remember and celebrate her long and fruitful life.
Online condolences may be left at www.oakcrestfuneralservices.com
Category:
The Buffalo Center Tribune
The Buffalo Center Tribune
PO Box 367
Buffalo Center, IA 50424
Phone: 641-562-2606
Fax: 1-800-340-0805
Email: bctrib@wctatel.net
Mid-America Publishing
This newspaper is part of the Mid-America Publishing Family. Please visit www.midampublishing.com for more information.