Verlaine Andersen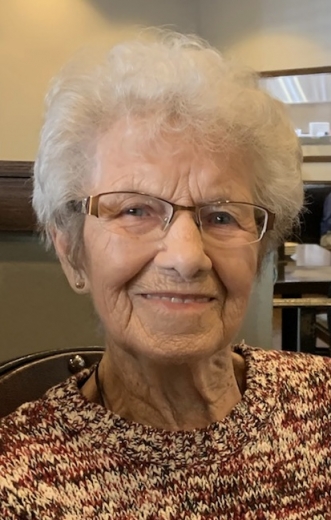 Verlaine E. (Thompson) Andersen, age 96, of Burnsville, Minnesota passed away peacefully on November 5, 2023. Verlaine will be laid to rest at Graceland cemetery in Buffalo Center, immediately following a private family service at the graveside.
Verlaine was born on March 2, 1927 in Buffalo Center to Clifford and Beulah (Iverson) Thompson. She was raised in Buffalo Center and graduated from Buffalo Center High School in 1944.
She married Martin Andersen on March 23, 1946 and began their life together farming. They moved to town in the early '60s and together ran the bowling alley for a few years.
Verlaine was the bookkeeper for the co-op oil for many years and later worked for Buffalo Center High School as a secretary. She enjoyed socializing with friends, sewing and knitting, golf, and after retirement, wintering in Texas. Verlaine and Martin enjoyed over 65 years of married life before his passing in 2011.
She is survived by sons: George (Pat), Lakeville, MN; Steve (Jean), North Mankato, MN; Mark (Vicki), Currie, MN; and Jay (Lori), Cleveland, MN. She was so proud of her grandchildren and great grandchildren and loved when she was able to babysit them or when they would drop in for a quick visit. Grandchildren: Heather (Jason) Miller, Excelsior, MN, Holli (Casey) Hankinson, Edina, MN, and Jeffrey (Chelsey) Andersen, Alamagordo, NM. Step-grandchildren: Aaron (Lauren) Lee, St. Peter, MN, and Rachel Johnston, Farmington, MN. Great-grandchildren: Quinn, Ryder, Samantha, Stella, Crosby, Daxter, Ally Claire, Carter, and Olivia. She is also survived by brother-in-law Wayne (Georgia) Andersen, sister-in-law Rosaire Thompson; and many nieces and nephews. She was preceded in death by her husband, parents, sister Zola, and brothers Richard, Roger, and Keith.
Category:
The Buffalo Center Tribune
Mid-America Publishing
This newspaper is part of the Mid-America Publishing Family. Please visit www.midampublishing.com for more information.