Thelma Krull-Boutelle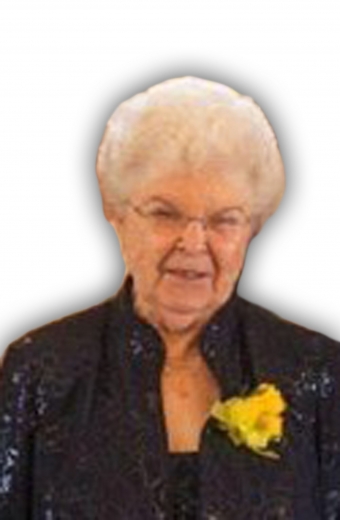 Thelma Jean Frandle Krull-Boutelle, age 95, of Northwood, formerly of Rake, passed away on Monday, August 31, 2020, in her Northwood home. A graveside service was held at 1 p.m. on Saturday, Sept. 5, at Sunset Rest Cemetery in Northwood with Pastor Sogge officiating.
Thelma was born June 6, 1925 at the home of Oscar Theodore Frandle and Frederica Benia (Legreid) Frandle in Hebron Township, Kossuth County. She was baptized June 25, 1925 in Lincoln Church in Rake, and confirmed in Zion Lutheran Church in Rake by S. Sorlien, Oct. 22, 1939. She attended country school in Hebron Township and graduated from Rake High School, class of 1942.
She met John A. Krull while skipping out on a church outing in Buffalo Center. They married at Zion Lutheran in Rake on a cold wintry Dec. 12, 1942. To this union, five children were born; Brenda, Linda, Jim, Eldon, and Paul. After marriage, Thelma and John farmed around Rake until 1961, when they purchased a farm east of Northwood.
Thelma was active in her church. She sang in choir, taught Sunday school, participated in ladies organizations and Altar Guild. Circle was always important.
Other community organizations included Garden Club, New Century Club and Semper Fedelis. School was hard for Thelma, so she took pride in helping 1st graders learn to read as an RSVP volunteer at N-K schools, until she turned 90 and decided to stop. Thelma was also a hospice volunteer beginning at 80, enjoying the people she visited. She was also proud of the hole in one she made while golfing in Arizona.
John died in 1986. Thelma married Doyle Boutelle on Dec. 29, 1991. The couple enjoyed camping, traveling and spending winters in Arizona. Her dream was to visit all 50 states, which she accomplished along with several overseas trips.
Although she was tough competition, Thelma's family will miss playing cards and dominoes with her. Thelma was an active person who walked, enjoyed making cookies and bars, as well greeting and welcoming new people as much as possible. Thelma had a life well lived, sharing it with the people she loved most. 95 years is a big accomplishment.
Those who are left to cherish memories of Thelma are her children: Linda (Tom) Engstrom of Mankato, MN, James Krull of Northwood, Eldon (Jan) Krull of Marshall, MN, Paul (Cynthia) Krull of Hampton; Step-daughter, Carol (Boutelle) Johnson of Mason City; eleven grandchildren: Erika Livermont and Christoffer Ober of McDonough, GA, Kristin Engstrom of Senegal, Africa, Peder Engstrom of Mankato, MN, Jesse Krull of Bismarck, ND, Chad Krull of Northwood, Ben (Lindsey) Krull of Burien, WA, Katelyn (Nate) Kooi of Tiffin, Kayla, John, and Tara Krull of Hampton, ten great-grandchildren; brothers: Ordale Frandle, and Ron (Linnae) Frandle; as well as countless extended family and great friends.
Thelma was preceded in death by her husbands: John Krull and Doyle Boutelle; daughter, Brenda Ober; son-in-law, Russ Ober; stepdaughter, Lonnie Forland; sister, Berdean Nerdig; and both her parents.
Conner Colonial Chapel in Northwood is assisting the family. To leave an online condolence, visit www.colonialchapels.com
Category:
The Buffalo Center Tribune
The Buffalo Center Tribune
PO Box 367
Buffalo Center, IA 50424
Phone: 641-562-2606
Fax: 1-800-340-0805
Email: bctrib@wctatel.net
Mid-America Publishing
This newspaper is part of the Mid-America Publishing Family. Please visit www.midampublishing.com for more information.