Phyllis Schmidt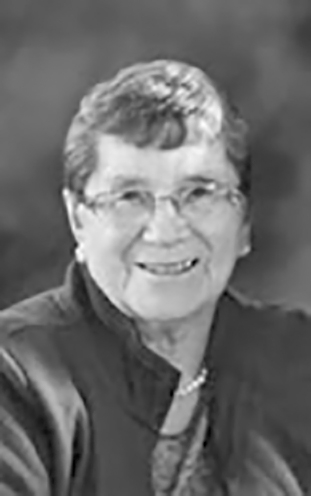 Phyllis A. Schmidt, age 91, of Titonka, passed away on Monday, October 26, 2020 at the Titonka Care Center. A funeral service was held at 10:30 a.m. on Tuesday, November 3, at Good Hope Lutheran Church in Titonka. Burial was at the Immanuel Lutheran Church Cemetery in rural Titonka following the service. The service was live streamed on Oakcrest Funeral Services' Facebook page.
Phyllis was born December 27 or 29, 1928, in Ute, the daughter of Harry and Elvira (Neubaum) Christensen. The family moved to Burt, where she attended school and graduated in 1947. She then attended the Iowa State Teachers' College in Cedar Falls. After graduation, she taught at Portland #1 country school. She met the love of her life, Roger Schmidt, when he purchased her basket at a Basket Social. They were united in marriage on July 3, 1949. They were blessed with six children.
Phyllis was a strong woman, and when she set her mind to something, she followed through. Her grandchildren describe her as "sweet most of the time, but sassy all of the time", "strong and indomitable", "loving, giving and caring", "feisty", "down to earth", "unpretentious", and "a surprise every minute." When cancer stole her ability to walk, she worked with her therapist until she was able to walk again - twice. She loved spending time with her children, grandchildren, great-grandchildren, many family and friends, and was an inspiration to them all. She enjoyed sewing, gardening, walking, playing cards, baking bread and visiting. Her quilts adorn the homes of her family members and friends across the country.
She is survived by her children: daughter-in-law, Gail Hanson of Osceola, WI, Tim (Debi) of Cedar Falls, Dan (Nita) of Iowa City, Mary of Titonka, Sue (Paul) Heyer of Titonka, and Paul of Fairmont, MN; 15 grandchildren: Erin, Molly, Ethan, Tyler, Kelsey, Spencer, Todd, Megan, Allison, Shane, Shannon, Stacie, Marcie, Ben, Tom; 33 great-grandchildren; sister-in-law, Laura Christensen; brothers: Bill (Avis) and Wayne; and many nieces and nephews.
Phyllis was preceded in death by their son, Mike; her parents; brother, Roland; brother, Russell; sister-in-laws: Ruth, and Karen; and sister, Beverly.
In lieu of flowers, memorials can be directed to Ingham-Okoboji Lutheran Bible Camp Beach House Renovation Fund or Titonka Care Center Physical Therapy Department.
Oakcrest Funeral Services in Titonka is assisting the family. To leave an online condolence, visit www.oakcrestfuneralservices.com.
Category:
The Buffalo Center Tribune
The Buffalo Center Tribune
PO Box 367
Buffalo Center, IA 50424
Phone: 641-562-2606
Fax: 1-800-340-0805
Email: bctrib@wctatel.net
Mid-America Publishing
This newspaper is part of the Mid-America Publishing Family. Please visit www.midampublishing.com for more information.