Peake finishes busy career as North Iowa's first TAG teacher
Sue Peake never expected to spend nearly four decades teaching at North Iowa Community School when she took on a brand new position at the school in 1983. After 37 years as the school's first TAG (talented and gifted) teacher, Sue took early retirement this spring so she can spend more time with her growing family.
Sue and her husband, Pastor Bill Peake, moved to Buffalo Center in 1982, when Bill came to serve at First Reformed Church.
"When we moved here, we figured we'd be here five years, and it's been 38," said Sue.
The couple met while attending Central College in Pella, where Sue got degrees in English and elementary education. Her first teaching job was in Pella in 1977, where she taught 6th and 7th grade English and 3rd grade. After Bill attended seminary in Dubuque, he served a church in Eddyville before the Peakes came to Buffalo Center.
Sue didn't have a job lined up when they moved to town, but the following summer, she got a call from Superintendent Don West at what was then Buffalo Center/Rake Community Schools, asking if she knew what TAG was. Sue says the state had just mandated the TAG program in Iowa schools. She took the job, which began with testing children at the elementary level to identify which kids would benefit from TAG programs. She traveled to the schools in Rake and Lakota, and later Thompson, and her job eventually expanded to all grades K-12. She got an endorsement for teaching TAG, and she oversaw accelerated reading programs, post-secondary enrollment, elementary enrichment, and weekly critical thinking exercises.
Sue says it really helped her to be a classroom teacher first before teaching TAG, as she understood what goes on in a classroom and how she could help the teachers.
Sue also enjoyed doing many activities with kids over the years, including quiz bowl, Future City, Lego League, Junior Physics Olympics, Invent Iowa, Mind Movers, spelling and geography bees, making sprint cars and paper rollercoasters, chess club, pajamathon, sockathon, and pizzathon.
She also started the Big Buddy program when her duties expanded to the high school. She says it's been a great success story, and with all grades at North Iowa being in one building, it makes it possible to match up high risk kids with a Big Buddy who can provide some extra help.
Sue says programs like sockathon and pajamathon were started because of needs in the community, and they give students a chance to make a difference in the lives of others. The chess club at North Iowa got its start when a student, Jack Ralls, was named the first grade chess champion of Iowa. That program involved high school students teaching middle school students and middle school students teaching elementary students the game of chess.
One particularly memorable project that Sue oversaw was a centennial photo project for Buffalo Center's 100th anniversary celebration in 1992. Over the course of three years, Bob Campagna of the Iowa Artists in Schools program came to Buffalo Center to work with a group of a dozen students, who photographed people and things of significance in the community. Sue says she wrote grants for the project, and they turned a janitor's closet into a dark room. Kids would work on the project after school, on Saturdays and during the summer. "They were so into it," said Sue. Pictures the students took are still featured at the Buffalo Center Public Library.
Sue has also been a National Honor Society sponsor at North Iowa for 35-plus years, and she has served as president of the North Iowa Education Association. She says there have also been many committees she's been involved with.
The end of this last school year was tough, with all learning moving online due to COVID-19. Sue says kids want to be with other kids and to be able to see them every day and do competitions together. "People are social – it's been hard not to be social," said Sue.
Sue decided to retire this year because she wants to spend more time babysitting her grandchildren, including two-and-a-half-year-old granddaughters in Brooklyn, IA and a new grandson in St. Paul, MN.
The Peakes raised three boys here, who attended North Iowa, and Sue said it was nice to see them at school every day. "I got to be part of their school life, too," said Sue. Matthew graduated in 2000, Ben in 2003, and Jonathan in 2006. All three of their boys are now married, with Ben and Jonathan both living in St. Paul, and Matthew living in Brooklyn. Sue says Buffalo Center is pretty conveniently located between their kids.
Sue is originally from Grand Rapids, MI, where she still has family.
Sue says retiring is bittersweet, but she hopes to be able to come back to North Iowa from time to time as a substitute teacher.
This Story is Sponsored by: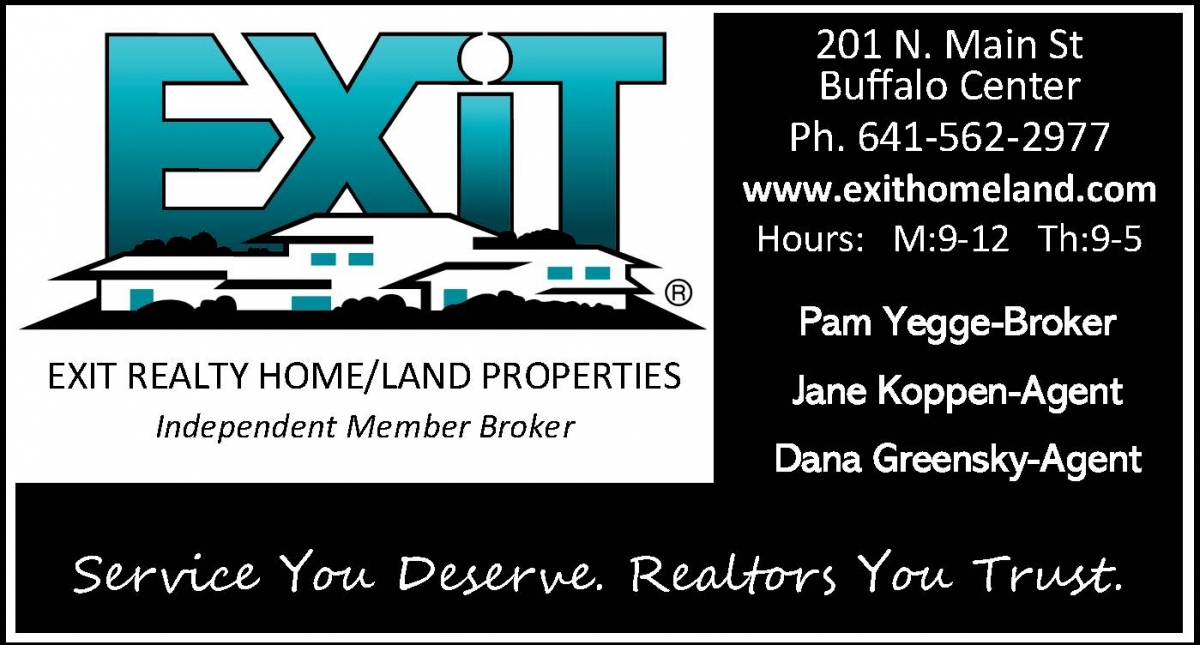 Category:
The Buffalo Center Tribune
The Buffalo Center Tribune
PO Box 367
Buffalo Center, IA 50424
Phone: 641-562-2606
Fax: 1-800-340-0805
Email: bctrib@wctatel.net
Mid-America Publishing
This newspaper is part of the Mid-America Publishing Family. Please visit www.midampublishing.com for more information.