Michael J. Christ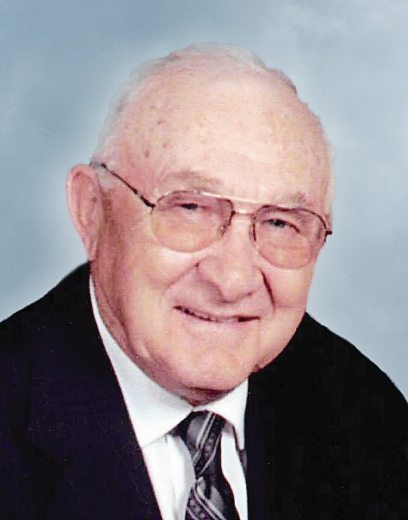 A funeral service for Michael J. Christ was held Tuesday, November 22, 11:00 a.m., at St. Paul Lutheran Church in Lakota. Burial followed at St. Paul Lutheran Cemetery. 
Michael Junior Christ was born July 16, 1928, to Michael W. and Rose Trasamar Christ. He was born on the Christ family farm northeast of Lakota in Kossuth County, Iowa. He was baptized and confirmed in the St. Paul Lutheran Church in Lakota. He attended country school in Lincoln Township No. 2 for grades 1-7, and graduated from Lakota Public School in 1945. Michael helped and worked on the family farm until he married.
On June 19, 1949, he was united in marriage to Dorothy Koons of Swea City. They started farming the family farm in 1950. To this union three children were born, Kathleen, Michael, and Nancy. Michael enjoyed farming and he took pride in the farm and his family. He loved to travel, play cards, fish, and read. He went fishing in Homer, AK, on one of his many trips. He enjoyed camping and spent many winters in Alamo, TX and Yuma, AZ. He belonged to the Good Sam Camping Club and attended Good Sam Samborees. Michael and Dorothy also belonged to Cutty's of Okoboji at Spirit Lake and the grandchildren enjoyed camping each summer with their grandparents. Mike served on the St. Paul Lutheran Church board, Farmers Co-op Elevator board, and the Lakota school board.
Michael's wife Dorothy passed away on November 23, 2016. He entered the Lutheran Retirement Home in Northwood in 2017 and was a resident there for over 5 years. He enjoyed games of cribbage and dominoes. He  often won, even 'skunking' the opponent. Michael survived the pandemic, even though limited often to window visits with his family. He enjoyed mail and pictures of his 8 grandkids and 16 great-grandkids.
On Thursday, November 10, 2022, Michael suffered a stroke and was admitted to Mercy One North Iowa Hospice House in Mason City. He died there on Friday, November 18, 2022, surrounded by his children. He was 94 years old.
He is survived by three children, Kathleen (Steven) Sampson of Maple Grove, MN, Michael James (Patricia) Christ of Buffalo Center, and Nancy (James) Bowman of Forest City; 8 grandchildren, Shaw (Jeni) Sampson, Shara Sampson, Seth (Angela) Sampson, Tara (Anthony) Royster, Michael Joseph (Jenny) Christ, Jared (Lori) Christ, Lindsay (Mike) Tuszynski, and Amy Jo (Jim) Singer; and 16 great- grandchildren, Magnus and Marius Sampson; Sophia, Vivian, and Theodore Royster; Trinity Landheer- Campbell; Morgan and Michael Jace Christ; Emma and Bennett Christ; Ada, Nola, Eli, and Willa Jo Tuszynski; and Stella Elizabeth and Clare Isabelle Singer; and many other beloved relatives and friends. He was preceded in death by his parents; his wife; and one brother, Arvid (Agnes) Christ.
In lieu of flowers, memorials were directed to Lutheran Retirement Home of Northwood, North Iowa Hospice House, and St. Paul's Lutheran Church, in memory of Mike. Oakcrest Funeral Services of Buffalo Center in charge of arrangements. Online condolences may be made to
www.oakcrestfuneralservices.com
.
Category:
The Buffalo Center Tribune
The Buffalo Center Tribune
PO Box 367
Buffalo Center, IA 50424
Phone: 641-562-2606
Fax: 1-800-340-0805
Email: bctrib@wctatel.net
Mid-America Publishing
This newspaper is part of the Mid-America Publishing Family. Please visit www.midampublishing.com for more information.