Mary Kuchenbecker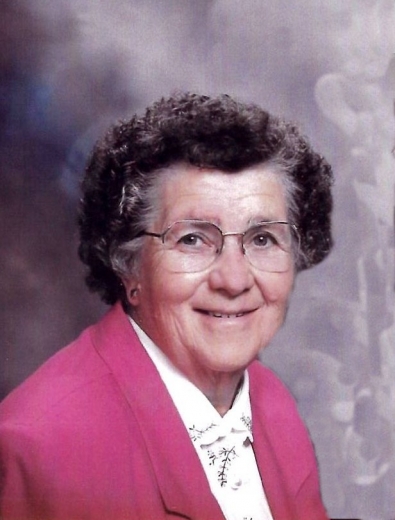 Mary Kuchenbecker, age 93 of Blue Earth, MN passed away Sunday September 17, 2023 at Mayo Clinic-Mankato. A Mass of Christian burial will be 11 a.m. Thursday, September 21 at SS Peter & Paul Catholic Church in Blue Earth with Fr. Jeff Dobbs officiating. Visitation is one hour before the service at the church. Burial will be at Calvary Cemetery in Blue Earth.
Mary Sophie was born in Storm Lake on December 19, 1929, the daughter of Anton and Bertha (Gillas) Alleven. She was baptized in Storm Lake and confirmed at St. Theresa's Catholic Church in Mapleton, MN. She graduated from Huntley High School in 1947. After high school, she attended one year of teacher training in Blue Earth; graduating in 1948. That was the last class in Blue Earth. She went on to teach country school for two years.
On December 29, 1949 she married Gerhard Kuchenbecker of Guckeen at St. Mary's Catholic Church in Winnebago, MN. They lived on various farm places until they moved to the present farm in 1960.
Mary worked as a farm partner, home health aide, and nurse's aide. She loved gardening flowers and vegetables; roses and gladiolas were her favorite. She also enjoyed crocheting, sewing, and playing the accordion. Mary and Gerhard took several vacations, including northern Minnesota, Canada, Alaska, Medjugorje, Yugoslavia, Italy, Lourdes, and France and Holland with her daughters Kathy and Ruth. Her first love was God and her church, her children, grandchildren, and great grandchildren. She was a member of SS Peter & Paul Catholic Church and Catholic Daughters. She was a dedicated wife, mother and grandmother. Blessed be her memory.
Mary is survived by her children, Donald (Judi) Kuchenbecker of Blue Earth, Kenneth (Sara) Kuchenbecker of Rake, Ruth (Franz) Scholtz of Elmore, MN. Grandchildren, Heather (Trent) Smidt, Dan Kuchenbecker, Andy Murphy (Brittney Bell), Adam (Jocelyn) Murphy, Michelle (Darren) Schwieger, Mike (Ann) Anders and Marci (Jon) Splinter. Greatgrandchildren, Cody, Samantha, Hadley, Justin, Alli, Dillon, Nathan, Brittney, Aaron and Nicole. Son-in-law Steve Gerken, sister-in-law Leta Alleven, as well as many nieces, nephews, and extended family.
She is preceded in death by her parents, her husband, three brothers, Theodore, John, and Tony, and her daughter Kathleen Gerken.
In lieu of flowers, donations to Girls & Boys Town, EWTN, or SS Peter & Paul Catholic Church would be appreciated.
Online condolences can be left at www.pattonfh.com
Category:
The Buffalo Center Tribune
Mid-America Publishing
This newspaper is part of the Mid-America Publishing Family. Please visit www.midampublishing.com for more information.