Luverne Risius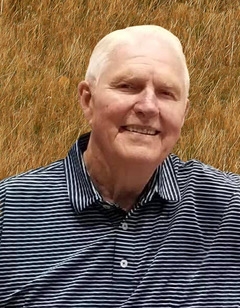 Luverne J. Risius, age 91, of Buffalo Center, passed away at Mercy Medical Center in Mason City on February 3, 2022.  A Celebration of Life will be held on Monday, April 18 at the Heritage Town Center in Buffalo Center.
Vern was born on March 18, 1930 in Buffalo Center, the son of Menno and Ann Risius. He graduated from Buffalo Center High School in 1947. He spent his early years on the family farm outside of Buffalo Center. Vern entered the Army Ready Reserve Service in 1951 and was honorably discharged in 1957. He was a member of the Buffalo Center American Legion Post 21 and proudly displayed the quilt he recently received from them.
On December 8, 1951, Vern married the love of his life, Arlene J. Ennen. They recently celebrated their 70th wedding anniversary with a card shower and received over 200 well wishes. They had four children: Vickie, Steve, Julie and Jerry. During their 35 years of farming and raising livestock, Vern and Arlene also delivered Winnebago campers from Forest City all over the U.S. for nearly 20 years. These trips often led to "on-the-way stops" to visit their children and watch their grandchildren's activities. They were also lucky enough in their travels to visit several countries in Europe and South America. 
Family and community were extremely important to Vern. He was on the Buffalo Center Community School Board for 16 years; 14 of those in which he served as President. He and Arlene were very active in the First Reformed Church in Buffalo Center, serving in many capacities. He was a hail adjuster for Farmers Mutual Insurance for 35 years and enjoyed the camaraderie of all his fellow adjusters.   
Vern and Arlene wintered at the W&I Resort in Mission, TX for 25 years. They played in pool and golf leagues and participated in many happy hours and potlucks with their fellow winter Texans. Vern hosted his annual March 18 birthday party with these great friends, which often included a group trip to Mexico for dancing and celebration.   
The "Old Dog" enjoyed an occasional "sippy", playing cards with the guys, and was a loyal fan of the Vikings, Twins and Hawkeyes. He could be found playing his harmonica or initiating the group toast with "Life Doesn't Get Any Better Than This". He will be missed by all! 
Vern is survived by his wife, Arlene; children, Vickie (Jeff) Lenz of Bettendorf, Steve (Lorie Davis) Risius of Ames, Julie Coffman of Denver, CO, and Jerry (Audrey) Risius of Brooklyn, NY; grandchildren, Josh Lenz, Mel (Chris) Egger, Sarah (Ryan) Dybevik, Shannon (Luke) Kackman, Erika Delgado, Cole Coffman, Carly Coffman, and Isabella Risius; great-grandchildren, Gabriella Hansen, Kaden, Ella and Ivan Dybevik, and Olivia and Jaxon Egger. He is also survived by his brother, Dean (Jody) Risius of New Ulm, MN; sister-in-law, Marilyn Peterson of Denver, CO; brother-in-law, Don (Ginny) Ennen of Payson, AZ; and many beloved nieces and nephews. He was preceded in death by his parents; son-in-law, Bruce Coffman; and his brother-in-law, David Ennen. 
Memorials may be directed to First Reformed Church, 401 1st Street SW, Buffalo Center, IA 50424.
Category:
The Buffalo Center Tribune
The Buffalo Center Tribune
PO Box 367
Buffalo Center, IA 50424
Phone: 641-562-2606
Fax: 1-800-340-0805
Email: bctrib@wctatel.net
Mid-America Publishing
This newspaper is part of the Mid-America Publishing Family. Please visit www.midampublishing.com for more information.