Lillian Halvorson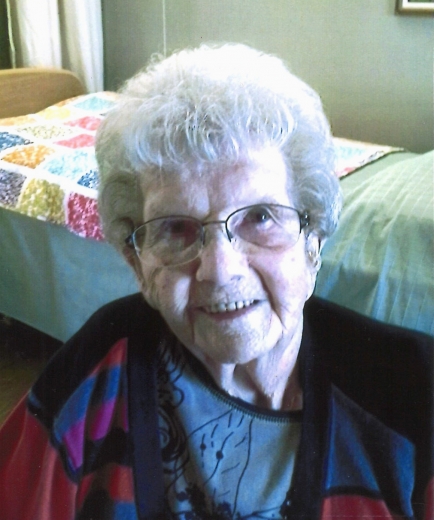 Lillian Corella Halvorson, age 100, of Buffalo Center, formerly of Rake, died peacefully June 25, 2020 at Timely Mission Nursing Home in Buffalo Center, where she resided the past five years. A private family service was held at Zion Lutheran Church in Rake, on Wednesday, July 1, at 11 a.m. with Pastor Doug Rokke officiating. Interment was next to her beloved husband in West Cemetery in Rake.
Lillian was born April 23, 1920 in Rome Township, Faribault County, MN, the daughter and one of twelve children born to Martin R. and Mary (Rake) Erdahl. Lillian married Arden C. Halvorson October 18, 1940 at Zion Lutheran Church in Rake.
She enjoyed playing cards with her friends. She also enjoyed hardanger work and crafted beautiful pieces. Lillian loved her children, grandchildren, and great-grandchildren. She was an active lifelong member of Zion Lutheran Church in Rake, having been baptized, confirmed, and married there.
She is survived by her children: Susan (Clyde) Bade of Andover, MN, and Tom (Henrietta) Halvorson of Forest City; three grandchildren: Tamara Halvorson, Chad (Brenda) Bade, and Nick (Emily) Bade; five great-grandchildren: Abby, Ally, Hailey, Sarah, and Sullivan; and former daughter-in-law, Judy Halvorson.
Lillian was preceded in death by her parents; husband, Arden (1999); son, Vance (2012); grandson, Thomas Halvorson; siblings: Alvin Erdahl, Arvil Erdahl, Vernon Erdahl, Rudy Erdahl, one brother in infancy, Bertha Johnson, Mabel Legried, Alice Hanson, Agnes Halvorson, Rosella Erdahl, and Elizabeth Thompson.
Cards and condolences may be sent to Susan Bade at 14406 Vintage St. NW Andover, MN 55304.
Bruss-Heitner Funeral Home in Wells, MN is assisting the family. To leave an online condolence, visit www.brussheitner.com
Category:
The Buffalo Center Tribune
The Buffalo Center Tribune
PO Box 367
Buffalo Center, IA 50424
Phone: 641-562-2606
Fax: 1-800-340-0805
Email: bctrib@wctatel.net
Mid-America Publishing
This newspaper is part of the Mid-America Publishing Family. Please visit www.midampublishing.com for more information.