Karen Askeland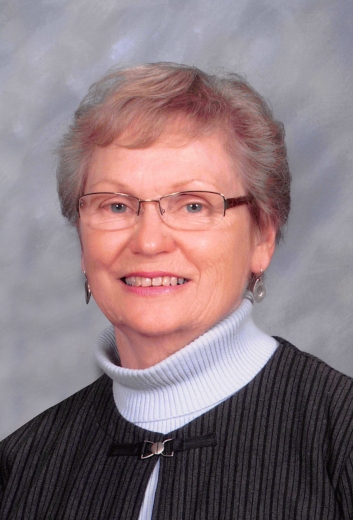 Karen Lou Askeland, age 82, of Buffalo Center, passed away surrounded by her family, who were singing hymns and reciting aloud Psalm 23 from memory, on Sunday morning, November 14, 2021. A memorial service for Karen will be held Wednesday, November 17 and limited to immediate family, in light of current conditions. The service will be livestreamed at 1:30 p.m. on Wednesday at https://www.facebook.com/oakcrestfuneralservices. In lieu of flowers, memorial donations may be made to your favorite charity in Karen's name.
Karen was born on January 18, 1939, in Forest City, to Vernon and Opal (Beckjordan) Mathews. The third of seven beautiful daughters, she grew up making playhouses in empty corn cribs and groves, lying in the pasture to gaze up at the clouds (which reminded her of the 23rd Psalm), playing cowboys with her friend Sharon, and canasta with her sisters. The girls all walked to country school, King #7, ¾ miles up the road from their farm in Thompson, and Karen graduated from Thompson High School in 1957. She liked most school subjects, especially art and English, and the business classes, like bookkeeping, typing, and shorthand. 
Karen was athletic her whole life: a high school basketball player (when girls teams still played wearing skirts), a skilled golfer, a champion of the local bowling leagues, and an awesome roller skater both forwards and backwards. While skating in Buffalo Center during her junior year of high school, her fancy footwork snagged the attention of a fine young baritone named Koreen "Ish" Askeland who was on the sidelines singing with some other BC boys. A light dusting of snow had fallen, which Koreen adroitly used as a pretext to offer to drive Karen home, and she eagerly accepted!
Koreen and Karen have been driving the roads of life together pretty much ever since. After he returned from a summer experience in Europe, while Karen worked as a secretary for an insurance agency, Koreen proposed at Pilot Knob State Park in the fall of '57. The two married in Thompson on April 20, 1958, and moved to a farm east of Buffalo Center, where they soon began a family—all girls, just like Karen's family growing up.   
A constant in Karen's life has been her strong Christian faith, which has guided her powerfully from her own Confirmation as a young teenager in Bethany Lutheran Church, and shaped how she and Koreen raised their four daughters. Beyond weekly attendance at Sunday services, Karen's lovely alto was always a steady contributor to the church choir. She taught Sunday School, actively participated in BLCW, and, perhaps most importantly, led her family in daily devotions, reading "Little Visits With God," to her four blonde girls in their pajamas every night, ending with prayers that included by name dozens of family members, friends and people in need.
Later in life, Karen mentioned that she might have liked to be a chef, and anyone who has shared a meal at her home knows that her cooking and baking was itself a ministry of love and care; feeding the bodies and spirits alike of the many who sat at her table—her cinnamon rolls, homemade cream filled "Hostess" cupcakes, banana bars, and lemon pie are legendary. Her children, Karla, Denise, Lori and Gina, were the primary beneficiaries, always hoping to learn to cook, garden, and sew as well as Mom. She encouraged all four girls to keep the faith, rooted in love and praise, and to get whatever education they wanted to fulfill their dreams. She was a great mom, neighbor, community leader, and friend to countless people, far and wide.
Karen and Koreen weathered ups and downs of farm life, with mom driving tractor and leading the beanwalking and rock picking crews (i.e., kids and cousins!). Working hard their whole lives, they made it to a wonderful, faith-filled retirement of daily drives, cabin life, and 13 grandchildren—and now seven great-grandchildren (and one on the way). Karen never missed a birthday or anniversary of anyone in the family—she and Koreen always singing the birthday song in harmony over the phone, first thing in the morning. True companions for life, in Christ.
During this most recent trial of covid, Karla asked Karen how she was doing right now—feeling overwhelmed? Anxious? Karen said, "God tells us not to worry but to pray." That is Karen, leaning on the everlasting arms, a steady firm foundation of faith in Jesus Christ her Savior. Karla said, "What comfort that gives me!" Mom was ministering to us all, and mothering us kids, to the end. 
Karen's memory will be cherished always by her loving husband, Koreen Askeland of Buffalo Center; daughters, Karla (Michael) Ostermann of Clyde, KS, Denise Askeland of Blue Earth, MN, Lori Askeland (Frank Doden) of Yellow Springs, OH, and Gina (Todd) Williams of Park Rapids, MN; grandchildren, Megan (Paul) Behrendtsen, Jonathan (Casie) Ostermann, Heidi (Austin) Zolman, Joshua, Rebekah, Caleb, Grace and Jessica Ostermann, Cleo and Alexandra Glowaski, Dominic Askeland, and Kyle and Madison Williams; and great grandchildren, Codan, Jadian, and Ziyana Behrendtsen, David and Karden Ostermann, and Story and Brayden Zolman.  
Karen is also survived by her sisters, Joan (Bob) Christianson of Buffalo Center, Lois Menchen of Niland, CA, LaVonne (Arnold) Grunhovd of Rake, Mary Mathews of Buffalo Center, Judy (Duane) Gudmanson of Lake Mills, and  Diane (Larry) Eide of Blaine, WA; by siblings-in-law, Carolyn Skogen of Buffalo Center, and Orvin Askeland (Laurel Ehrich) of The Villages, FL.; plus many nieces, nephews (regular, great, and great-great), and a huge, beloved extended family.
Karen was preceded in death by her parents, her in-laws Ingvald and Lavina Askeland, Lila and Arlan Rauk, Carlin Egesdal, Pam Askeland, Donald Skogen, Diane and Steve Christianson, Edwin Smith, Norman Redeker, George Menchen, Richard Glowaski, and by nephews, David Egesdal and Randy Smith.
Oakcrest Funeral Services in Buffalo Center assisted the family with arrangements. Online condolences may be left for the family at www.oakcrestfuneralservices.com
Category:
The Buffalo Center Tribune
The Buffalo Center Tribune
PO Box 367
Buffalo Center, IA 50424
Phone: 641-562-2606
Fax: 1-800-340-0805
Email: bctrib@wctatel.net
Mid-America Publishing
This newspaper is part of the Mid-America Publishing Family. Please visit www.midampublishing.com for more information.