Judy Van Hove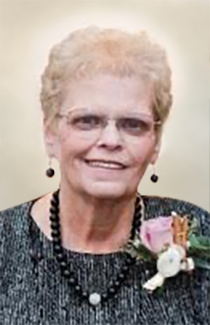 Judith Mary (Seaberg) Van Hove, 73, of Buffalo Center, died March 18, 2021, in Midlothian, TX surrounded by her family and the love of her life after a courageous battle with cancer. Service times are still pending. Details will be posted on Oakcrest Funeral Services' Website, www.oakcrestfuneralservices.com, when available. Social distancing practices will be followed, and masks are required. The funeral and graveside will be live-streamed on Oakcrest Funeral Services' Facebook page, https://www.facebook.com/oakcrestfuneralservices.
Judy was born on May 21, 1947, in Algona, to George and Gladys (McElmurray) Seaberg. Judy graduated from Titonka High School in 1965. After graduating, she married her high school sweetheart, Robert Van Hove, on September 25, 1965, in Wesley. Together they raised three children: Rick, April, and Matthew.
Judy was very active in the Ramsey Reformed Church and the local chapter of the Christian Women's Club. She enjoyed spending time with her children and grandchildren and cherished the quiet, country life. Some of her favorite moments were spent with family on the front porch swing.
Those left to cherish her memory are her husband, Robert of Buffalo Center; children Rick (Candi) Van Hove of Midlothian, TX, and their children Taylor (Tim), Austin, Aaron (Kalie), Mason, and Addison; April (Wendell) Eimers of Peosta and their children, Courtney, Lindsey and Kacey; Matthew (Ida) Van Hove of Minnetonka, MN and their children Madelyn and Sophia; and four great-grandchildren Hadley, Hayden, Maverick and Bayler; brothers, David Seaberg of Osprey, FL, Phillip (Jane) Seaberg of Klemme; and sisters-in-law, Karen Folkerts of Titonka, Leona Van Hove of Buffalo Center and Marlene Van Hove of Spirit Lake.
She was proceeded in death by her infant daughter, Jennifer Judith Van Hove; parents, George and Gladys Seaberg; brother, Dwight Seaberg; sisters-in-law, Virginia Seaberg and Ann Seaberg; brothers-in-law, Keith Van Hove, Carroll Van Hove, and Ronald Folkerts.
Condolences and memorials can be sent to April Eimers, 638 Julissa Drive, Peosta, IA 52068.
Online condolences may be left at www.oakcrestfuneralservices.com
Category:
The Buffalo Center Tribune
The Buffalo Center Tribune
PO Box 367
Buffalo Center, IA 50424
Phone: 641-562-2606
Fax: 1-800-340-0805
Email: bctrib@wctatel.net
Mid-America Publishing
This newspaper is part of the Mid-America Publishing Family. Please visit www.midampublishing.com for more information.