Joseph "Joe" Berschman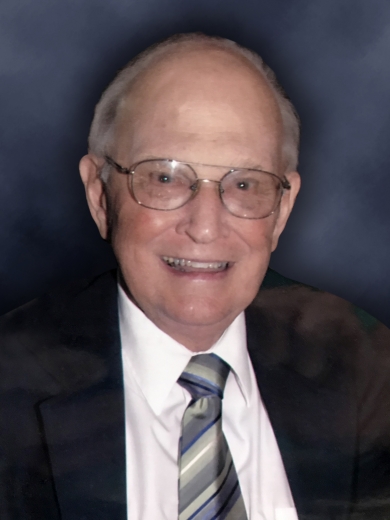 Joseph Ray Berschman, age 94, passed away on Sunday, September 6, 2020 at Timely Mission Nursing Home in Buffalo Center. Funeral services were held on Wednesday, Sept. 9, at the First Congregational Church in Buffalo Center. Burial was in Olena Mound Cemetery in Buffalo Center with Military Honors conducted by the VFW Post #824 and American Legion Post #21, Buffalo Center. The funeral service can be viewed on Oakcrest Funeral Services' Facebook page.
Joseph was born on Aug. 24, 1926 at Lakota, to Heyo and Flora (Schaefer) Berschman Joe was baptized and confirmed in the Presbyterian Church in Lakota. He attended Lakota High School, graduating in 1944. After graduation, he helped his dad farm until he was drafted into the Army in 1951. After he finished his basic training at Fort Riley, he married the love of his life, a red-haired girl from Buffalo Center, Dorothy Ruby, on Aug. 18, 1951. From August 1951 through July 1952, he and Dorothy lived in Fort Devens, MA before Joe left for Korea in July 1952. He served until March 1953.
After he returned from Korea, he and Dorothy moved to the family farm south of Lakota, where he lived until retirement. Joe loved farming; it was his passion. He loved his farm equipment, planting and harvest seasons, and working with his son. Joe very much enjoyed fishing trips to Canada and Alaska, which led to family fish fries upon his return. Joe loved being a winter Texan, spending the cold Iowa winters in sunny, warm Mission, TX for 35 years. There he would enjoy golf, bowling, playing dominoes and pool, card games, and taking trips into Mexico. In his later years, Joe would never miss his morning and afternoon coffee times each day at the grocery store in Buffalo Center. Joe loved the Lord, and to his very last days he would sing "Jesus Loves Me." He served as a Sunday School teacher, trustee, and elder in the Presbyterian Church in Lakota and was later a member of the First Congregational Church in Buffalo Center, where he served as a deacon.
Joe will always be remembered for his big laugh, his strong work ethic, his love of singing and song, and the incredible love he had for his family. Cherished memories from the grandchildren: eating cookies and Little Debbies on the tailgate of his pickup truck, a fishing trip to South Dakota and being allowed to drive Grandpa's new car all the way home, the family cruise in December 2008 and the visit to Mazatlan Cathedral, passing out Dee Mints in church, and "no jackrabbit starts" because that's bad for gas mileage.
Left to cherish Joe's memory are his wife of 69 years, Dorothy; son, Steven (Jill) Berschman of Lakota; daughter, Kristy (Mike) Skoglund of Urbandale; grandchildren: Marcus Berschman of Clive, Andy Skoglund of Richfield, MN, Carrie (Burke) Arndorfer of Bancroft, Jenna Berschman of West Des Moines, Sarah Skoglund of Des Moines; great-granddaughter, Jade Arndorfer of Bancroft; in-laws: Betty Johnson of Northwood, Delores Rinden of Joice, Jim Ruby of Forest Hill, LA; and numerous nieces, nephews, and friends.
Joe was preceded in death by his parents: Heyo and Flora Berschman; twin brother and sister-in-law: John and Jane Berschman; sister and brother-in-laws: Ruth and Donald Clapper, Kay and Gene Newel; and nephews: Brian Newel, Ronald Berschman, and Duane Ruby.
In lieu of flowers, the family would request that donations be made to the Alzheimer's Foundation of America in Joe's name.
Oakcrest Funeral Services in Buffalo Center is assisting the family. To leave an online condolence, visit www.oakcrestfuneralservices.com
Category:
The Buffalo Center Tribune
The Buffalo Center Tribune
PO Box 367
Buffalo Center, IA 50424
Phone: 641-562-2606
Fax: 1-800-340-0805
Email: bctrib@wctatel.net
Mid-America Publishing
This newspaper is part of the Mid-America Publishing Family. Please visit www.midampublishing.com for more information.