James Gibson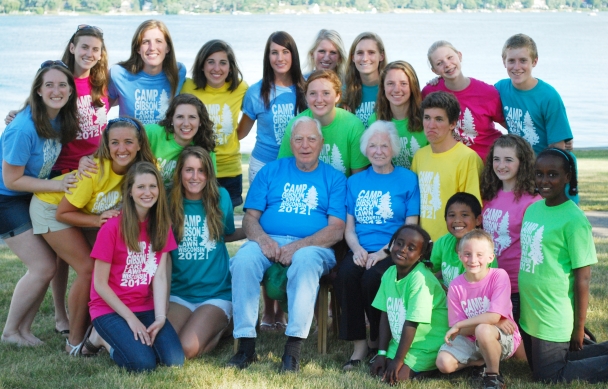 James Dennis Gibson, age 93, left this world on March 15, 2021. He entered the world on September 26, 1927, the son of Jim and Hetty Gibson. He joined the U.S. Coast Guard in 1945 and served during WWII. James attended Loras College in Dubuque and joined the FBI in 1950. He served in the Chicago Division, New Haven Division, Hartford RA, New York Division, Omaha Division, and Waterloo RA.
James married Phyllis B. Hanrahan on May 12, 1956. Together they raised six children.
Always an Iowan at heart, James loved farm living and animals, sitting on the driveway with a cigar on a quiet summer evening, and baseball, football, and basketball – particularly Hawkeye style. He loved traveling the entire country and parts of the world, but also returning to his quiet existence. He even loved watching Phyllis come out to help him clear a tractor from the considerable mud or bringing the men in for a delicious lunch during the harvest season. James loved working on new things and creating something useful from virtually nothing. He loved his work with the FBI and lived it with great integrity, as he did everything else. His closest friends remain those with whom he served.
James grew stronger and increased his considerable faith in God through the many trials life presented to him. Losing his farms in the '80s hurt so much, but he recognized that God always provided, even when a job opened at the racetrack judging the winning greyhounds. Phyllis' prolonged illness gave him a new appreciation of her inner strength. Then losing Phyllis, the love of his life, almost broke him, but God provided dear friends, Kathleen and Nancy, to guide him back to joy. As time became more abundant in his life, he began attending daily Mass and praying the Rosary for many things, but especially his family. James loved sitting in a prayerful church with his dear ones after morning Mass to pray the Rosary. The kids never heard him raise his voice, even after crashing the car or getting a car stuck in the snow on a frigid night. Peace resided in him, and now he resides in peace.
James is survived by his six children, Denise (Randy) Speiss, Steven (Kate) Gibson, Matthew (Jackie) Gibson, Kathryn (Steve) Smart, Amy (Steve) Davidson, and Suzanne Paiser; 23 grandchildren; seven great-grandchildren; and five great-great-grandchildren on the way in 2021.
Category:
The Buffalo Center Tribune
The Buffalo Center Tribune
PO Box 367
Buffalo Center, IA 50424
Phone: 641-562-2606
Fax: 1-800-340-0805
Email: bctrib@wctatel.net
Mid-America Publishing
This newspaper is part of the Mid-America Publishing Family. Please visit www.midampublishing.com for more information.