Iona Mae (Wirtjes) Berg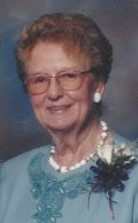 Iona Mae (Wirtjes) Berg, age 93, of Swea City, formerly of Buffalo Center, passed away at the Good Samaritan Nursing Home in Forest City on Thursday, October 1. A celebration of Iona's beautiful life was held on Wednesday, October 7 at 2 p.m. at the Community Chapel in Lakota. Burial was at Riverview Cemetery in Elmore, MN following the services.
Iona was born May 15, 1927 at Buffalo Center Hospital in Buffalo Center, the second child of Herman and Sena Wirtjes. She and her four siblings: Art, Alvin, Irvin and Violet, were the tightest of friends from childhood throughout adulthood. Iona married Milford Berg on Jan. 6, 1946 at The Little Brown Church in Nashua.
Iona truly loved the Lord Our God and enjoyed worshiping Him in many ways. She enjoyed playing the piano, singing (even whistling), gardening, baking, Farmers Market, helping those in need, but most of all, being with her family and friends. She would sit and watch her grandchildren play, filling her with smiles, giggles and joy.
We appreciate all your prayers and condolences we've received since Iona's passing, and we will draw on the legacy of love she created and shared with everyone who knew her. Thank you.
She is survived by her children: daughter, Judy Berg-Bartleson (husband James) of Yukon, OK; their children: Kyle Bartleson (wife, Cindy and daughter, Haley) of Redondo Beach, CA, Kimberly Bartleson-Walker (husband, Scott, son, Blake, and daughter, Bailey) of Springtown, TX, son, Derald Berg (wife Ruth) of Albert Lea, MN, and their children: Nathan Berg (wife Shaina and children Westin and Madeline) of Eden Prairie, MN, Lydia Berg-Sorenson (husband Dak and children, Jett, Winn, and Bekk) of Albert Lea, MN, Abby Berg-Murray (husband Jon and children Ayva, Sienna, and Charlie) of Albert Lea, MN, Priscilla Berg-Arjes (husband Eric and foster children Miles and Wilder) of Nashville, TN; Thomas Berg of Albert Lea, MN, and daughter, Joyce Berg-Foust of Forest City.
Iona was preceded in death by her husband, Milford Berg; parents: Herman and Sena Wirtjes; siblings: Art Wirtjes (wife Doretta), Irvin Wirtjes (wife Sue); sister, Violet LeMaster (husband Verlin); and son-in-law, Jerry Foust.
In lieu of flowers, memorials may be directed to Alzheimer's Foundation of America (alzfdn.org).
Schott Funeral Home, Mittelstadt Chapel in Lake Mills is assisting the family. To leave an online condolence, visit www.schottfuneralhomes.com
Category:
The Buffalo Center Tribune
The Buffalo Center Tribune
PO Box 367
Buffalo Center, IA 50424
Phone: 641-562-2606
Fax: 1-800-340-0805
Email: bctrib@wctatel.net
Mid-America Publishing
This newspaper is part of the Mid-America Publishing Family. Please visit www.midampublishing.com for more information.