Grant W. Ostrander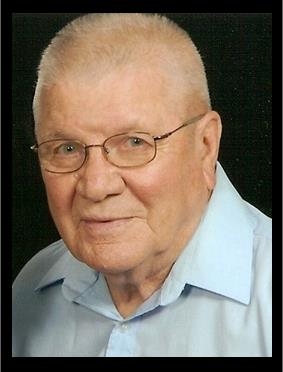 Grant W. Ostrander, age 91, most recently a resident of Summit House Assisted Living in Britt, and formerly of Buffalo Center, died on Sunday, July 5, 2020 at MercyOne North Iowa Medical Center in Mason City. There will be no services for the public during these uncertain times with concerns for social gatherings and the spread of Covid-19. The family will gather at a later date to celebrate Grant's life.
Grant Wilbur Ostrander was born Oct. 1, 1928 on a farm near Thompson, the son of Earl Ostrander and Anna Myhr Ostrander. We were told that he weighed only four pounds and was kept warm in a cardboard box on the warming oven of the cook stove.
He was married to Barbara Schaefer on Feb. 12, 1949, and together they raised five children: Dean, David, Glen (Sue), Linda (Ross O'Neal), and Kim (Mark Ostermann).
He was brother to Ray (Nancy) and deceased siblings Floyd (Hazel), Dorothy (Wallace Swanson), and Leslie (Luluvon). He was brother-in-law to Vivian Johnson (Marv-deceased), Roger (Fran) Schaefer, Kathleen (Denny) Matthies, and Warren (Sandy) Schaefer. He was Grandpa to sixteen and great-grandpa to eleven, as well as having many nieces, nephews and cousins. Together with Barb, he welcomed three foreign exchange students into his home: Claudia (Germany), Terhi (Sweden), and Jorge (Brazil). They later traveled to the home country of each to renew the relationship.
If you asked what Grant did for a living, he would say he was a farmer. Together with brother Les, they farmed more than 500 acres of primarily corn and soybeans near Buffalo Center. It also included an extensive dairy cow and hog operation. It was a family operation, with spouses and children pitching in with chores and field work. But he was also a businessman, managing a thriving snowmobile and lawnmower sales and service business after Les retired from farming and ending the livestock part of the farm operation. The snowmobile season could get very busy, and more than once, Barb had to go out to the shop late at night to ask (no-to tell) a customer that it was time for him to leave so Grant could get some sleep before his next day started.
He was also a mechanic, salesman, and a carpenter. Most importantly, he was a husband and a dad. Travel, fishing trips and family outings were important and frequent. It was expensive to travel with five kids, so Grant retrofitted old school buses to become family campers. By the third vehicle, he had fine-tuned how to make a luxury camper. The family crossed America with trips to Rocky Mountain National Park, the Smokey Mountains, the Blackhills and Badlands. There were numerous fishing and hunting trips to Minnesota, Canada, and Montana and Sunday excursions to watch Vikings football, as well. When he decided it would be fun to have a boat, he built a pontoon boat that provided hours of fishing adventures and lake entertainment for the family. In his later years, Grant enjoyed a wine-making hobby that he loved to share with anyone who would come help bottle. He spent countless hours picking fruits, steaming juice, and sharing the fruits of his labor.
Grant was an active member of the Masonic Lodge and, together with Barb, the Order of Eastern Star. He was a longtime member of Bethlehem Lutheran Church. He seldom missed an athletic game, music concert, or any school activity one of his children was involved in.
It has been said that the measure of a man is the impact that he has on the life of a child. By example, he taught his children, grandchildren and other young people he associated with that it was important to work hard. He thought that every problem had a solution, and if you kept trying, you could solve it. It was also important to play and to have fun. Now Grant joins his beloved wife and life partner, Barb, and they will likely get the angels together for some of the best wine-making and tasting heaven has ever experienced.
In lieu of flowers or memorials, please consider doing something kind for a stranger–or a friend in need, and make our world a little better place today. Grant would love that.
Mittelstadt Funeral Home in Lake Mills is assisting the family. To leave an online condolence, visit www.schottfuneralhomes.com
Category:
The Buffalo Center Tribune
The Buffalo Center Tribune
PO Box 367
Buffalo Center, IA 50424
Phone: 641-562-2606
Fax: 1-800-340-0805
Email: bctrib@wctatel.net
Mid-America Publishing
This newspaper is part of the Mid-America Publishing Family. Please visit www.midampublishing.com for more information.