Deloris Kettwick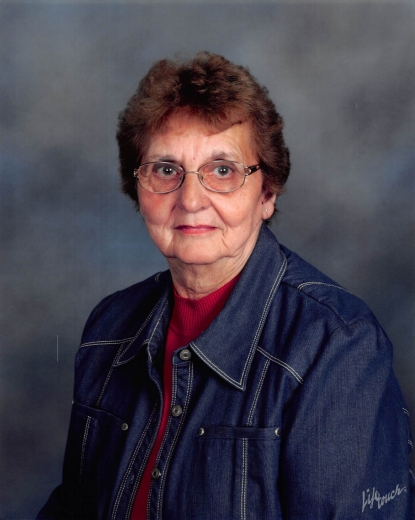 Deloris Jane Kettwick, age 89, of Buffalo Center, passed away on Sunday, July 4, 2021 at Timely Mission Nursing Home in Buffalo Center. A funeral service was held at 10:30 a.m. on Wednesday, July 7, 2021at First Reformed Church in Buffalo Center. Visitation was held from 5 to 6:30 p.m. on Tuesday, July 6, 2021 at First Reformed Church. Interment was held at Graceland Cemetery.
Deloris was born on June 7, 1932 on a farm south of Gerled, the daughter of Herman and Jennie (Troff) Dontje. She was baptized and confirmed at the E & R Church in Leyard and also graduated from Ledyard High School in 1949. Deloris was united in marriage to Harold Kettwick at the First Reformed Church in Buffalo Center on January 18, 1953. Together they farmed northwest of Buffalo Center and raised five children: Madonna, Darvin, Michael, Wayne, and David.
She was a Golden Club member of First Reformed Church. She served as a Sunday School teacher, Sunday School superintendent, Bible School teacher, RCW member, circle member, and long-time choir member.
Deloris loved all aspects of farm life. She enjoyed making home cooked meals, baking, gardening, canning, mowing, quilting, and working out in the field. She was still working long hours in the field at age 85. She was also diligent at supporting her kids and grandkids in 4H, FFA, sports, music and other school activities. An honor she was especially proud of was when she and Harold were named "Fans of the Year" by the North Iowa Booster Club in 1990.
In addition to being a hard-working farm wife and loving mother, she worked for a time at Green Giant in Blue Earth, Elmore Nursery and Mr. K's in Buffalo Center. She will be remembered as a person who very rarely sat idle. She loved her children, grandchildren and great-grandchildren and enjoyed spending time with them. She made it a point to make a special quilt for each one.
Deloris is survived by her children, Madonna Kettwick of Buffalo Center, Michael Kettwick and wife Carole of Buffalo Center, Wayne Kettwick of DeWitt, David Kettwick and wife Renee of Clarinda, and daughter-in-law Robin Kettwick of Buffalo Center; ten grandchildren, Drew (Mandy) Kettwick, Ross (Maggie) Kettwick, Troy (Rachel) Kettwick, Jasmyne (Andy) Kettwick-Campbell, Treye (Nickey) Kettwick, Karsen Kettwick, Dedric and Jett Kettwick, Chris (Brandi) Howell, and Abby Howell. Also left to cherish her memory are eight great-grandchildren; her sister, Janice VanDerZwaag; sisters-in-law, Velma Dontje, Lenora (Ken) Moorhead, and Elvera Logemann; brother-in-law Jerome Milsap; and many nieces and nephews.
She was preceded in death by her parents, her husband, her son, Darvin Kettwick; her grandson, Tyler Kettwick; her daughter-in-law, Tracy Kettwick; her siblings and their spouses, John and Lenora Dontje, Arnold Dontje, Donald and Mildred Dontje, Martha Milsap, Gary VanDerZwaag; sister-in-law, Geraldine Wessels and her husband Jake Wessels; and brothers-in-law Marvin Kettwick and Donald Logemann.
Oakcrest Funeral Services in Buffalo Center assisted the family with arrangements. Online condolences may be left for the family at www.oakcrestfuneralservices.com
Category:
The Buffalo Center Tribune
The Buffalo Center Tribune
PO Box 367
Buffalo Center, IA 50424
Phone: 641-562-2606
Fax: 1-800-340-0805
Email: bctrib@wctatel.net
Mid-America Publishing
This newspaper is part of the Mid-America Publishing Family. Please visit www.midampublishing.com for more information.