Darlene Divan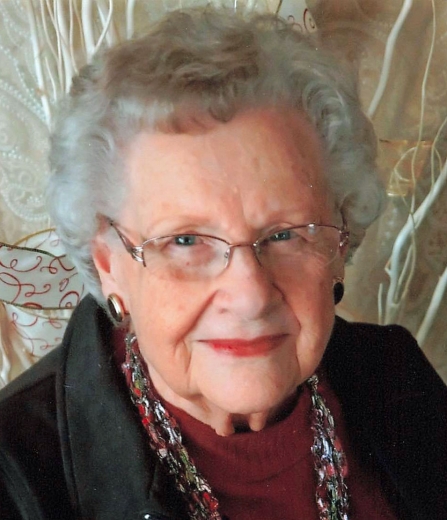 Darlene N. Divan, 94, of Thompson passed away Thursday, May 5, 2022, at the Good Samaritan Society in Forest City. A memorial service will be held 3:00 p.m., Saturday, May 14, 2022, at Bethany Lutheran Church in Thompson, with Rev. Rod Hopp officiating. Inurnment will be at Rose Hill Cemetery. Visitation will be held one hour prior to services at the church.
Darlene Nuella Divan, the daughter of Thomas and Tillie (Asbe) Lundy, was born December 19, 1927, in Amsterdam Township, Hancock County. She graduated from Britt High School in 1945. Darlene was united in marriage to Lyle Divan on June 8, 1947, at Kanawha Lutheran Church. They farmed near Thompson all of their married life. After Lyle passed away in 1990, she continued to live on the farm. In 2000, she moved to Forest City and later to Prairie View Apartments in Garner. In 2019, she became a resident of the Good Samaritan Society in Forest City. Darlene enjoyed spending time with her family and quilting.
She was a member of Bethany Lutheran Church and a neighborhood club.
Darlene is survived by her children, Linda Arnold of Garner, Carolyn (Robert) Sunde of Forest City, and Alan (Pamela) Divan of Vinje; grandchildren, Michael (Kirstin) Kollasch of Cary, IL, Amy (Brad) Berkey of Colfax, Chris (Melisa) Sunde of Omaha, NE, Matt (Kristin) Sunde of West Des Moines, Angela (Scott) Yegge of Ankeny, Amber (Brandon) Abel of Henderson, NV, Joshua Divan of Vinje, Jacob Divan of Des Moines, and Jeffrey (Haley) Divan of Thompson; 13 great grandchildren, Todd Berkey, Ryan (Johanna) Berkey, Brooke (Brock) Yossi, Dylan (Wendy) Berkey, Brady Berkey, Carter Sunde, Blake Sunde, Cade Sunde, Mason Yegge, Morgan Yegge, Ashton Abel, Ainsley Abel, and Ella Krotz;  four great-great grandchildren, Breckyn Yossi, Brynn Yossi, Claire Berkey, and Scarlett Berkey; two sisters, Lois Kraft of Corwith and Joyce Zeigler of Estherville; and many nieces and nephews.
She was preceded in death by her parents; husband, Lyle; a brother, Howard Lundy; two sons-in-law, John Kollasch and Jim Arnold; two brothers-in-law, Carl Kraft, Jr. and Jim Zeigler.
Cataldo Funeral Home of Garner is in charge of arrangements. www.cataldofuneralhome.com
Category:
The Buffalo Center Tribune
Mid-America Publishing
This newspaper is part of the Mid-America Publishing Family. Please visit www.midampublishing.com for more information.