Billy Smith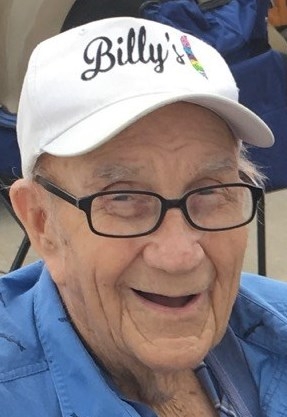 Billy Smith, age 91, of Buffalo Center, passed away after a full and blessed life, surrounded by kids and grandkids and great-grandkids in his last two years, on Wednesday, November 17, 2021, at The Bridges in Ankeny. A memorial service will be held at 6:30 p.m. on Wednesday, November 24, 2021 at Ankeny Funeral Home, 1510 West First Street, Ankeny. Visitation was held Tuesday at 6:30 p.m.
Billy Martin Smith was born on April 3, 1930, in Buffalo Center, the son of John and Grace Smith. He grew up in the town that he was always proud of, graduating from Buffalo Center High School in 1948. Following high school, he was in the Navy, sailing from Washington, to Hawaii, then through the Panama Canal, and on to the East Coast – an experience that gave him a lifetime of memories. On January 11, 1958, he married the love of his life, his sweetie, Elsie Drake. They were united in marriage at the First Congregational Church in Buffalo Center, where they lived their entire married lives in the house that Dad built. They raised three wonderful children…and me. Mom and Dad both served faithfully in the church for decades; their love for Jesus oh, so evident.
Billy wore many, many "hats". True, he collected many caps – a Hawkeye one, one from Texas, and one from Washington, D.C. were his favorites – but I'm talking about all the jobs he had over the years. And he had at least a hundred stories with each one. He hauled milk, cream, gravel, and mail. He told of keeping the cream can between him and some farm dogs, using it as a shield. He spoke of guys at the creamery licking their hands after wrapping up the butter. Billy had lots of stories of his brother Johnny and the gravel truck, saying the hydraulic arm to raise the bed "wasn't strong enough to pull your hat off." One of his favorite stories about the mail route was when he asked Clarence Bond what time "the Star Carrier" would get to Buffalo from Algona. Clarence went on for twenty minutes, then said, "Go ask Dick" (one of his coworkers).
The hat he wore most was that of carpenter. He worked in the good ol' days, when the carpenter did everything from pouring the foundation, laying block, setting up studs, shingling, hanging sheet rock, and nailing on the finish trim. I worked with Dad fourteen straight summers, through my high school, college, and grad school years, and we laughed all the way through – Jeff Heitland singing "Blue Velvet" endlessly, one guy who hired us following behind and picking up every nail we dropped, and the time his overalls ripped, right when the school bus dropped off a load of kids.
Dad's most famous hat was probably that of fisherman. So many stories. Catching two bass at the same time on one jig. Holding up a Northern that was taller than Cindy. Many trips up North, to "Blowstring", "with the three greatest cooks of all time – Oma Grace, Aunt Bess, and Aunt Rose. With Harry and Aete, and Dort and Al. Stories of heaping plates of fish, and everyone full to the gills, but "Gary took another one," and so on and so on, until they were all gone. He had this amazing way of jerking the pole, and setting the hook, and reeling 'em in. TV-3 caught him on Crystal Lake one time, and he told them it's all in the jigging. When he was on the lake, he had such a great supply of patience that he could wait all day. On the road, in a store…uh, not so much.
Dad was a Deacon, or a Trustee, at the First Congregational Church in Buffalo Center for more years than most of you have been alive. He loved the Lord and came to love studying the Bible. Dad was never what you would call a great student – he said many times that the only reason he went to high school was to play football. But Les Feldick was his favorite Bible teacher, and Dad loved how Les opened the Scriptures, and he studied a lot more in his latter years than he ever did as a high schooler. Fisherman, carpenter, football player, Deacon – he even was a gravedigger. Dad wore many hats. But his best one was that of father. He was the greatest dad a kid could ever want, full of songs, and laughter, and stories… oh, so many stories… but most of all, full of love – love for the Lord, love for his kids (he loved us to pieces), and love for Mom. He missed her so, so much these past couple of years, and now he is with her again.
Billy is survived by his children, Cindy Smith of Minneapolis, MN, Randy (Judy) Smith of Ankeny, and Dan (Diana) Smith of Urbandale; grandchildren, Jonathan (Vanessa) Smith of Nevada, Rachel (Colton) Willey of Polk City, Joy Smith of West Des Moines, and Bekah Smith and Jen Smith of Ankeny; six great-grandchildren, Stephen, Zekeriah, Ellia, Willliam, Blaine, and Taya; and many nieces, nephews, and friends beyond count – basically, everyone who met him.
He was preceded in death by his wife, Elsie; his daughter, Jean Smith; his parents; and his siblings, Johnny Smith, Margaret Honken, Marion Heitland, and Dorothy Heitland. See ya later, Dad.
Ankeny Funeral Home in Ankeny is assisting the family with arrangements. Online condolences may be left for the family at www.dignitymemorial.com
Category:
The Buffalo Center Tribune
The Buffalo Center Tribune
PO Box 367
Buffalo Center, IA 50424
Phone: 641-562-2606
Fax: 1-800-340-0805
Email: bctrib@wctatel.net
Mid-America Publishing
This newspaper is part of the Mid-America Publishing Family. Please visit www.midampublishing.com for more information.